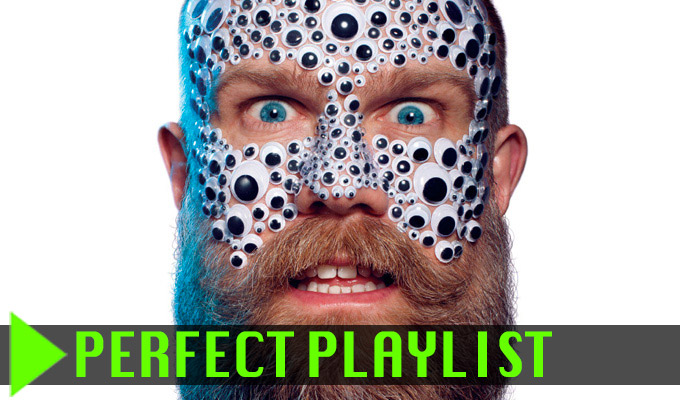 'George Dawes should be free on the NHS'
Hello my name is Olaf Falafel and I like daftness.
I love things that are visually strange, like Edward and Tubbs' faces from The League of Gentlemen or Vic Reeves' interpretation of Lloyd Grossman.
I'm a big fan of silly sounding words like Herr Dumpidump (the Norwegian name for Mr Bump) and all of the 'Boutros Boutros-Ghali Chrissy Waddle Scorchio' dialogue from The Fast Show's Channel 9 newsreaders.
I'm also a sucker for a good bit of randomness, things that shouldn't go together being mixed in a big bowl of weird. Big Train's 'Jockeys in the wild being chased by Prince' sketch is a good example so is a cartoon sponge that wears shorts and lives in a pineapple under the sea.
I wish I could include all of the above in my Perfect Playlist but I've tried to narrow it down to just seven clips. I hope you enjoy this selection of some of the many things I find funny:
George Dawes: Peanuts
The hair, the glasses, the tracksuit, the song with just one lyric, the fact that Matt Lucas can't stop laughing, the bit where he tries to compose himself halfway through but still ends up losing it – this clip is magic and should be given out free on the NHS.
This is just a great sketch from an under-appreciated show that only lasted for six episodes. I love the names of all of the dishes, Hoisin Crispy Owls, Fluffy Ruffs and Bonbonbonbons being particular favourites. There are lots of other cracking touches in there such as the 'looking at the wrong camera' bit and the way he says the web address.
Professor Stanley Unwin Meets Bill & Ben The Flower Pot Men
When I was a teenager I used to listen to the Small Faces' Ogdens' Nut Gone Flake abum on repeat, this was where I first heard of Stanley Unwin.
If you don't know him, Unwin was an old English comedian who spoke his own gobbledegook language that he called Unwinese – sort of based on actual English so a lot of it sounded familiar. He narrated small sections between the songs at the back end of that album that formed a story about Happiness Stan, a boy who jumps on the back of a fly and visited Mad John to discover the secret of life.
This clip is from when Unwin met Peter Hawkins, the voice of The Flower Pot Men, which I'm lead to believe was the 1950s equivalent of SpongeBob SquarePants.
Flight of the Conchords: Sugalumps
There are so many great Flight Of The Conchords tracks to choose from but I picked this one which is essentially about women admiring men's testicles.
There are some great lines in there such as 'All these bitches checkin' out my britches, put 'em in a trance when I wear track pants' plus there's a brilliant break-down by Arj Barker as Dave towards the end.
The Not So Late Show presents UK Garage Horse Racing
A masterclass in mashing together two contrasting things to make something very funny. Watching a lot of horse racing and listening to my fair share of UK garage during my formative years, makes The Daniel Bedingfield 'We gotta get through this' Champion Sprint a perfect Venn diagram for me. Ipflibbydibby!
Reeves And Mortimer: Roxy Music
Another one where I could have literally picked anything from their comedy output such is their consistent greatness.
I've grown up with these two from the early days of watching Big Night Out and The Smell of, through to Shooting Stars and more recently Monkey Trousers and Catterick.
So many memorable sketches but I've plumped with one of their many wonderful music spoofs mainly because I do like a bit of Roxy Music (trigger warning: contains Jimmy Savile).
The US Office
I binged watched all of the US Office while drawing my most recent children's book. A lot of people say it's not as good as the original but I really like where they took it. The pranks Jim plays on Dwight are always very funny.
This clip is a collection of a few of them, the bit where Jim moves Dwight's desk had me in stitches, the candle was a touch of genius!
• Olaf Falafel: There's No 'i' In Idiot is on at Laughing Horse @ The Pear Tree at 12:15.
Published: 14 Aug 2018
What do you think?