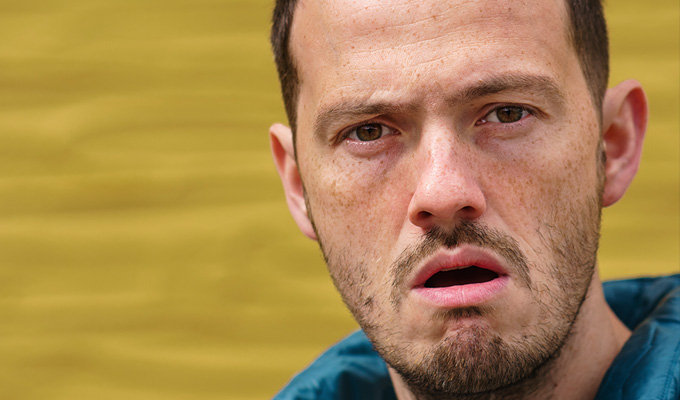 'A nuanced, six-second, take on anxiety'
Stuart Laws plays the Soho Theatre in London next week. Here he shares some of the things that make him laugh...
When you trip and your spaghetti falls out your pocket
Six seconds to be funny, zero budget and no demographics to appeal to. Vine was a service that lasted about four years; allowed users to upload a six-second video and produced some of the funniest things: I've ever seen.
When you do stand-up comedy you learn that every single word, pause, body movement is important and that you should work out the most concise and effective root from set up to punchline.
Vines take that further: the title of the video being the set-up, the set-up not even existing, the video not even existing and you just imagined it. Like a ghost in the swell.
The beauty of this 2014 release is basing it around an observation we can all relate to. Transporting spaghetti is often fraught with panic that it won't make it to the intended destination safely. Tripping is also the second most likely faux pas by a human after mistaking antiseptic cream for toothpaste.
So what KingBach does is take those observations and skilfully combines them into a nuanced take on anxiety. That it also provokes a laugh is a real bonus!
Tony gonna stand on an egg
The video is more than just an impressive slice of home video fun that we can watch in its entirety; rather than a sliced up soldier in the swollen ranks of a You've Been Framed episode.
The comedy of any event is not the pratfall, it's the context, the aftermath, the power of laughter to overcome the economic tragedy of a wasted egg. The original ghost in a shell.
'Are you bleeding?' That's the big question at the end of the video, and it goes unanswered, leaving the viewer to question everything that came before. Is it OK to laugh? Does a presence – or lack – of blood make the comedy more or less potent!?
It's filmed in portrait mode: the key line of dialogue is said right at the start, making it unlikely to be heard properly by anyone. It's duration? 33 seconds - but the first 9 seconds are all about the beautiful tension: a faceless protagonist, a clear aim, an unusual approach. Then bam; 10 seconds in and the entirety of the premise is turned on its head. You could say, the egg stands on Tony.
Hiding From Someone And Then Jumping Out On Them
As humans we often expect that a person who was in a room when we left it will remain in the room when we return. That's not always the case? A common way of subverting this expectation is to appear, on casual inspection, to not be in the room but to then reveal that you were, in fact, in the room all along: simply hiding from sight. This will generally provoke a surprised reaction from the unsuspecting visitor.
To the lame man this sounds an impossible dream - and frankly unachievable. It simply requires some planning, access to the blueprints of the room and a little dash of magic: or imagination.
A significant aspect of the ruse is the lack of expectation that a fully-grown adult will climb into a cupboard, sneak behind a sofa or lie prone underneath a crumpled duvet. This is your ace in the hat, your rabbit in the hole. Plan your hiding position, move swiftly and then hold your breath for your victim to return.
Then it's a case of tension and release; how long can you wait before bursting out? Ten seconds and you'll get a good response BUT three months and three days? That's-a-spicy-a-jump-scare. A lovely flourish to the whole shebang is whatever you choose to yell as you emerge; the classics are a loud yell or your victim's name. For me, nothing quite beats yelling the name of a specific Nespresso pod: 'VIVALTO LUNGO!'
Welsh football team photos
Football is pompous and it can turn a good man bad. So please, please, please let me get what I want: one team trying to have a good time. The Welsh brings the party to the yard with their
refusal to take a proper team photo
in the traditional formation.
Posing for a photo is universally acknowledged to be really lame and so Gareth Bale et Hal (Robson-Kanu) and all the rest of team have concocted a superb response. They never line up in an expected arrangement and then add little flourishes like one player looking the wrong way.
In a post-structural world where imposition of identity and modernist deconstruction is an expression of critical discombobulation, the Welsh men's football team photos are a chance to revel in rebels. They are raging against the machine and I feel fine. Viva la revolution!
This tweet
[Drive Thru]
Intercom: Would you like to swap ur fries for a fruit bag?
Me: How about you come the fuck out here & we settle this like men?

— Brynnester (@brynnester) November 7, 2017
Picture the scene: twitter.com is open and it's imploring you to write something with a simple question: 'What's happening?'
I'll tell you what's happening: millions of attention-shy dweebs are trying desperately to think of the tweet that will finally make their parents proud of them. Some tweets land on your desk and immediately conjure a scene, a scene that might not be true but still makes the tweet greater than the sum of its character count. This particular tweet is obviously really funny but it simply has to have a backstory: right?
This person Brynnester went to a drive-thru: I'm sure of that. This person Brynnester got offered to swap their fries for a fruit bag: I'm sure of that. What happens next in the tweet is the stuff of legend and hearsay.
They say the secret to a good tweet is to use the worst curse word you can think of; and include a photo of your dick or vagina. But I'm not so sure. I think taking an everyday observation and taking it in a fun: unexpected: direction is just the thicket.
Overuse of punctuation and getting common phrases or words wrong
It's, never: not; annoying, too pedants. Pedants are fun to wind up. If you causally pronounce pastry with the same style as pasty then your discourse-partner will momentarily lose concentration and you will win the 'did you hear everything I said?' battle.
The film title Wind River is more fun if you change both i's to a different empharsis. Spelling words wrong or getting phrases wrong but still conveyancing your intended point is more impressive than being a boring square.
And colons and semi; colons are punctuations dirty little secrets and the only people who don't like dirty little secrets are illegal perverts and villains. So use them: with gay abandon; okay?
Also, try to use them in conversation and see if your transcriber can work out that yore: using a colon, or even getting you're semi on.
• Stuart Laws Stops is at Soho Theatre on June 5 and 6. Details.
Published: 31 May 2018
What do you think?