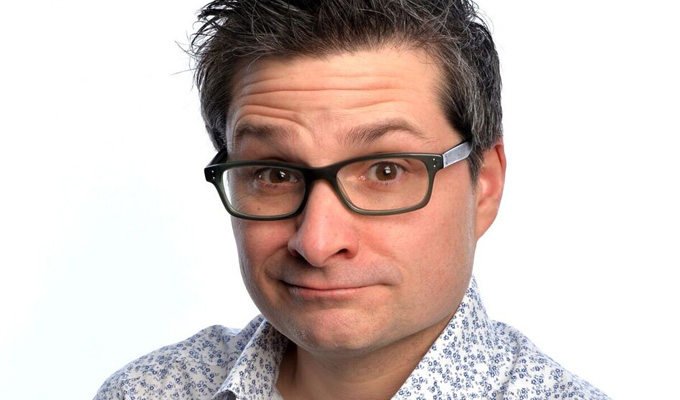 'Guaranteed to put you off cute puppy videos'
American political comedian Erich McElroy, who is in Edinburgh with a show about Donald Trump, choses his comedy favourites.
Office Space
From the moment those suburban white guys secretly crank up the rap music, to getting a 'case of the Mondays', there are moments and lines from this film that will never leave me.
It's thoughtful, silly, low-budget and I think an almost perfect comedy. 'If they take my stapler, I'll set the building on fire' is one of the mantras in my life. 
Baxter
This French film is a very dark comedy, and the fact that I found it funny back in the 90's, was probably a warning that the only job that would make me happy is comedy.
Much of the film is the internal monologue of a dog as it turns into a psychopathic killer. Some of the lines and insight into the canine (and human) mind are frightening. This film will rightfully put you off cute puppy and cat YouTube videos.
Comedy that will terrify you.
Rhod Gilbert and the Award-Winning Mince Pie
I saw Rhod preview this show at a small, packed room and it was simply awesome. One of the best hours of live stand-up I've ever seen.
Driven by his passion to uncover the mystery of the pie, the hour seemed a random jumble, watching a man losing him mind. Then it all came together hilariously. It was a masterclasses in stand-up.
I'm sure the DVD is great, but so far I can't bring myself to watch it as I don't want to override that incredible memory.  
Seinfeld
Although there is something clinical about Seinfeld's stand-up (I remember not liking his staged opening stand-up gigs in the early part of the series) the sitcom was a work of art. So much nothing happening to a bunch of nothings.
The best episode was the one in the parking garage. It's Beckett-eqse (if that's a word) in it's absurdity as they wander aimlessly around. Never winning. Every time. 
WKRP in Cincinnati
For a good old-fashioned cheesy American sitcom, this is up there. These shows raised me as the played on endless repeats in the early and late afternoon. From Les Nessman's insistence on having an imaginary office door, to the now terrible outfits, I could watch these over and over again.
It's terrible really, but brilliantly so. 
Dead Men Don't Wear Plaid
I'm sure The Jerk is lots of peoples favourite comedy for a very good reason. If I was gonna go Steve Martin, I'd be happy to be stuck with Dead Men. So many good bits - like the scene where she sucks a bullet out, because she learned how at camp - was way before we found out what people did at band camp.
All the cutting with old films was a loving tribute and ahead of its time. Now with CGI literally recreating actors, this is a lot more fun, knowing how hard they had to work to make it all fit together. 
•  Erich McElroy Tops Trump is on at Laughing Horse @ Espionage at 15:45
Published: 22 Aug 2017
What do you think?