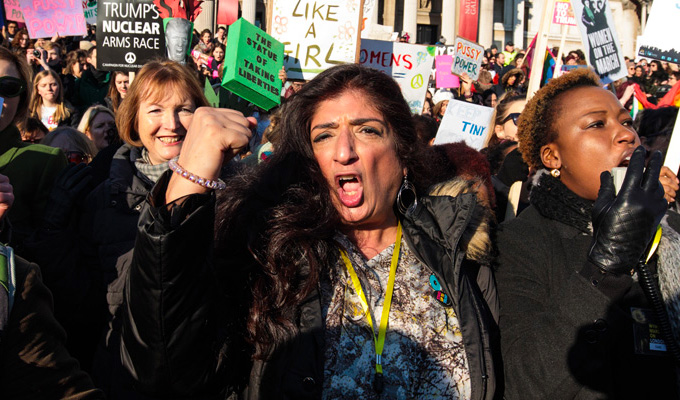 'I wish they'd make a Muslim Life Of Brian'
Jeez, this playlist is harder than it first appeared. What to go for? Clips that made me the performer I am today? My most fave clips? Or the cool kids list that my peer group would approve off ? Well I've decided to go for most memorable clips from my life that have some meaning – not necessarily the funniest. Still so many to choose from so will cheat and mention in passing comedy that made an impact.

There is debate around what different cultures find funny.  If there is such a thing as 'British Humour' then as a first generation immigrant I probably learnt it and the English language watching TV.  I grew up in a household where I heard the equivalent of 'An an Englishman, an Irishman and a Scotsman' jokes, only replaced by Sikh, Hindu, Muslim.

The Kershi Klan are cursed with finding funnies in the darkest places – it's the way we deal with really heavy shit. The 'banter' was deliciously sarcastic, a flurry of scathing, light-hearted put-downs that no one took personally and made us all laugh and develop thick skins. We were a household that liked to do impressions of each other. All this before we even arrived in the UK, so I  guess it sounds pretty universal so far right?

I grew up aware of various sitcoms on TV playing in the background – like George and Mildred, Rising Damp, Steptoe and Son, Bless this House, A Fine Romance etc etc...I wasn't a fan of any of them as at that time didn't get them.

My parents loved Mind Your Language in spite of it being considered politically incorrect today. For that first generation it depicted probably the only Asian characters on TV - it played on the stereotypes but we understood them.

The only one I remember is my mum's fave – it was an Indian character Jamilla, she gets arrested for shoplifting after mistakenly reading only the 'Free' bit on a 'Buy two get one free' offer - these kind of mistakes were made by immigrants and resonated with us.

It is exactly these kind of stories which are reclaimed in my Immigrant Diaries show where performers from an immigrant heritage are in control of their own narrative. But let's get to my first clip.
Kevin Turvey Investigates - The Media
Probably my first conscious intro to the world of comedy. Kevin Turvey was a geeky investigative journalist with rambling monologues about mundane things, played by the irreplaceable talent that was Rik Mayall.
All the comedy I loved thereafter leads back to Kevin Turvey. It was the first time I recall laughing out loud watching something on TV and it gave me a reason to want to go to school the next day so I could impersonate 'six pints of Pernod and a packet of crisps' routine. I have scoured the internet and cannot find a clip that refers to it so maybe I made that up in my head.
Kevin Turvey saved my bacon from the horror of bullies at school, and this really is a comedians cliché, but, I realised that making people laugh and entertaining them was power.
Kevin Turvey led to a lifelong fan girl worship of Rik Mayall and everything he did, was associated with or was around the same time as his work: Comic Strip, The Young Ones, Bottom, The New Statesman, Blackadder, French and Saunders, Ben Elton, Not The 9 O Clock News, Tracy Ullman, Ruby Wax, Mary Whitehouse Experience, Spitting Image and so much more.
I must have repeated the 'Pernod' line so often that when my mum said I should have friends over for 'drinks' to integrate into British society (think she totally lifted that from George & Mildred). I had only just turned 16! She bought a bottle of Pernod, no mixers, and left us to it! Well, it got messy but made me slightly more popular at school.
Given my Muslim mum doesn't drink, to this day I'm not sure she knew Pernod was alcohol.
Lenny Henry: Bellamy Rap
The first time I ever saw a live stand-up show was when I was a student working as a waitress in a bar. I served three-course meals watching the likes of Billy Connolly, Lenny Henry and much more make a roomful of people laugh like drains - it was magical.
However, I had no notion to follow in their footsteps at that time, I wasn't even aware that as an Asian woman I could be like them, as it seemed very much a man's game. At the time I think I was only interested in using the laughter breaks as an opportunity to stuff profiteroles and other food items into my gob!
Thanks Billy Connolly for allowing me to stick it to the man! Thanks to Lenny Henry for being one of the first role models: his Bellamy impression showed me that if white people could black up, people of colour could play around with white characters.
So,I was torn between Connolly who I would be crying with laughter at whilst serving food or Henry who may have had a hand in giving me the confidence to do stand-up.
Hey, who doesn't want to hear a rap? Bellamy Rap it is:
Airplane!
A timeless classic of silliness that was enjoyed by the whole family. Some of it, on reflection, does seem a bit  un-PC, but Airplane! is the first film I recall watching as a family. Before that the only times we watched films together was our monthly visit to Southall to see Bollywood films.
Airplane! connected us as a family and we started to make the transition from leaving Bollywood films behind and enjoying Western films together. Though some things were beyond us, like boy in the cockpit, we were reciting to each other lines such as: 'Have you seen a grown man naked?'.
So many funny skits within one film: 'I picked the wrong week to give up smoking, drinking, sniffing glue', 'Don't call me Shirley', the hysterical woman on the plane….
It was the original in a series of that genre, but nothing that came after Airplane could ever compare or make me laugh as much. It has a soft place in my heart and earns a place in my top six for sheer nostalgia alone. I've gone for the hysterical woman 'get a hold of yourself clip.
Goodness Gracious Me! Going for an English
How could this not be on my list?!
Goodness Gracious Me was the first time that my generation of British Asians saw themselves represented as they were. It also had universal appeal. All the characters in some way existed within my own world. 'Everything is Indian', yep, that was my late father who never forgave the British for colonisation or the fallout from Partition: 'Sajeela you know why the call it Piccadilly Circus? they stole it from us – Pick-of-Dehli.'
I could also recognise my late aunt and uncle in the Kapoors (Coopers) who could switch their British/Pakistani button on and off depending on the company they kept. In their 'we're British' phase they would denounce their Asian heritage and wheel out their giant world globe that would open up to reveal a drinks cabinet.
But it has to be the 'going for an English' that is the cult classic – from having years of seeing lazy stereotypes of immigrants, GGM turned it all on its head.
This sketch was a great putdown to all those idiots who visited curry houses pissed out of their heads.
(I couldn't find the original – so settle for the stage version)
Joan Rivers: 9/11 Widows
My comedy styles have probably been most influenced by Dave Allen. Though he was Irish, his storytelling style of comedy around religion resonated with me.
However the first time I ever considered a career in comedy was watching Joan Rivers - beautifully fearless, shocking, hilarious, speaking unspeakable truths and damn the consequences! For a young woman like me who found herself continually getting into trouble for saying exactly what was on her mind, Joan Rivers was my tribe.
How did she get away with it? What made her tick? I had to find out. I found a biography going for couple of quid in a bookshop, she led the most fascinating life, I watched her TV series, and I blame my addiction to  QVC on Joan Rivers. I started watching it when she sold her jewellery. I watched it as it was a joy, that frisson would she say the wrong thing live on air.
Having read her book, I was inspired by her work ethic. Screw the whole 'are women funny?' baloney, Joan Rivers is one of the greatest comedians of our time! Fact!
Yes, I have fudged out from my memory her inappropriate remarks in her final year. 'Can we talk?' is still the most memorable catchphrase, and she had so many wonderful routines, but one that sticks is the 9/11 widows. Fearless!
Life Of Brian
I absolutely loved this film and I always longed for a Muslim version. It's utter genius and cannot for the life of me understand why it was banned… but the fact that it was, makes me love it all the more.
Wonderfully written and truly satirical – I strongly believe religion should be challenged especially in the climate we live in today (although I find anti-Semitism or Islamaphobia abhorrent and unacceptable)
Life of Brian is timeless and please can someone make a series of them for all faiths. The clip I've chosen is the stoning one – perfect!
Friends
Many years later, Friends still hits the spot for me, wonderfully formed characters, brilliant writing, funny and a go-to reference point for anything that happens in life for me and my friends.
For example: a friend of mine gave up drinking and we thought she was well less fun - 'Fun Bobby'; a male friend started dating an age inappropriate woman - 'it's like when Ross dated his student'; someone booked a really rubbish stripper for friends' hen night, it was 'like Danny De Vito as stripper episode'. My friend really shouldn't have given up drinking before her wedding though.
So, going for a smorgasbord collection clip as there are too many faves – incidentally 'a turkey moist maker sandwich' now exists in our family Christmas holidays, albeit using the leftovers of our halal slightly spiced Christmas turkey. So if you want something specific I'd go for Ross's 'My sandwich'.
• Sajeela Kershi: Immigrant Diaries is in Nasty Women on the Fringe, Laughing Horse @ Newsroom, 20:45 and her solo show, Fights Like A Girl! at Laughing Horse @ The Hanover Tap at 18:15
Published: 19 Aug 2017
What do you think?