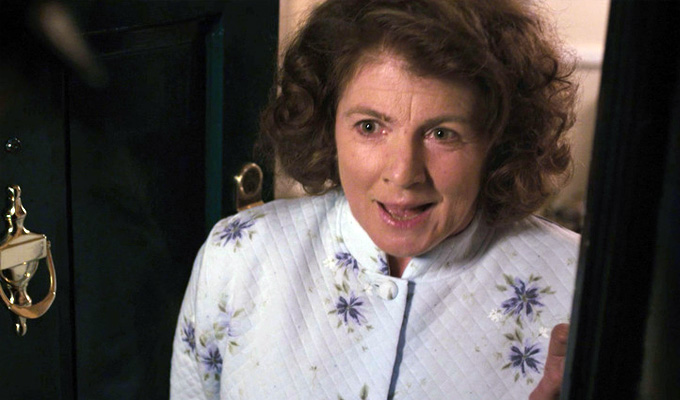 'She made me realise how powerful women could be in comedy'
Felicity Montagu, probably best known as Alan Partridge's put-upon personal assistant Lynn, stars in the new Radio 4 comedy Guilt Trip this week. Here she talks about her comedy favourites.
Dad's Army 
I come from a military family, in fact my Father (Drogo Montagu) was a Colonel in the Second World War, and he used to watch Dad's Army religiously. We all used to sit around eating scrambled eggs and bacon and wait in anticipation for Arthur Lowe and his comrades to appear on screen.
The love for this show was just inculcated into us at such an early age, the sheer perfection of Lowe's comic timing gave us hours of sublime viewing. There was something so amazing about John Le Mesurier and Lowe together, a dynamite comic relationship.
The whole family would gain utter joy from the men's exploits but also from watching my father roar with laughter. What is even more fantastic is Dad's Army was one of the very few videos he kept in his living room his entire life, so when myself and my siblings (there are five of us) had children (10 of the little buggers) the grandchildren would be summoned to watch it with him. It was like enjoying it all over again from a different angle.
This show just truly transcends generations. I think it's the incompetence which we all laugh at, its so great watching other people get things wrong, it's loveable. It became ironic when I was up for the part of Mrs Mainwaring, the sense of responsibility and the memory of my father guffawing at the exploits of Arthur's territorial army, made me 150 per cent determined to get the part and impress Oliver Parker who directed it. 
The Mary Tyler Moore Show
My kid's Dad, Alan, introduced me to Mary Tyler Moore and she was a revelation to me. Actually life changing. When I watched the Chuckles Funeral sketch it sent me on a journey and I realised how powerful women could be in comedy. They didn't have to be the nosey next-door neighbour, the love interest or the fat mother-in-law. Actually they could be the women desperately trying not to laugh inappropriately at a clown's funeral. She hit the nail on the head, it could happen to any of us… but maybe not the clown part. However I do know a lot of clowns, just not the circus ones. 
Mary Tyler Moore was a hugely respected fantastic actress, she could break our hearts while making us laugh. She should be the inspiration to any young female talent. 
I'm Alan Partridge
Steve Coogan is one of those people I just feel so lucky to have rubbed shoulders with. After filming the episode where Partridge was retching over the lectern, all day being absorbed in my own character  it wasn't until I  got home and was having  a glass of wine with my husband , that I started laughing. And I couldn't stop. I spent the whole evening laughing, barely able to breathe or have any kind of conversation. I suddenly realised I was working with a comic genius.
As a performer, a writer and a producer, Steve Coogan has the most magical artistic taste. Like a musician playing his instrument, he knows exactly how to gauge comedy. He seems to know how far to go, have courage where a lot of people may not. Plus he is just great fun to work with! He seems to be able to retain childlike qualities in some of the characters he plays to bring a sense of wonder about the world. 
The Lucy Show
It started with Lucille Ball. I would just ask anyone to watch The Chocolate Sketch. The simplicity yet sheer desperation was all played out in the most outrageous repetitive fashion.
I watched it with my daughter the other day after years of not having seen it and we were both crying with laughter. Lucille just made us laugh with no politics, no issues...she was just funny. There should be more of a place for women who are funny for who they are, not just what silly character they are playing.
This mighty comedienne shoved chocolate after chocolate in her face unashamedly and with no fear. For me comedy comes from truth, desperation and humans struggling in a dignified fashion to cover up failures. The latter is a perfect ingredient for deadly comedy. I just can't help being utterly intrigued with her, I wish we had met. 
Kathy Burke
I mean, Kathy Burke… she just blows me away ! The searing honesty in her characterisation is just phenomenal! Wayne and Waynetta, Perry The Teenager… This woman has some real balls, and I absolutely love her for it.
Perry's petulant behaviour with Harry Enfield just comes from such incredible observational qualities. You wouldn't realise it was a woman playing that role. It's practically old-school Shakespeare (back in the day, men playing women) but twisted on its head.
Kathy just has a great wisdom for life and see's the world as it is. As she says herself, she is totally streetwise and thank god for a woman that is! 
Why Bother?
Chris Morris and Peter Cook together. What a combination! To listen to these two intellectually fierce comic giants, battling it out in tandem is one of those really  great privileges. Believable improvisation is a talent in itself; the brilliance lies in the natural delivery of absurdity.
The gold in this comedy coupling (which originally aired on BBC Radio 3, of all places)   is that neither performer has the upper hand . They match each other intellectuality, but  you can hear in the performance how much they just love to challenge one another  and play with that  wonderfully childish competitive streak. I think it's a knockout example of improvisation's golden rule: 'Yes, and…'. They produce magic. My nephew Robbie, who is 18, listens to it on a regular basis and was the one who introduced me to it. 
• Guilt Trip starts at 11.30am on Wednesday on BBC Radio 4 and stars Felicity Montagu, Katherine Jakeways and Olivia Nixon, with guest appearances from Tim Key, Javone Prince and Juliet Cowan.
Published: 25 Jul 2016
What do you think?