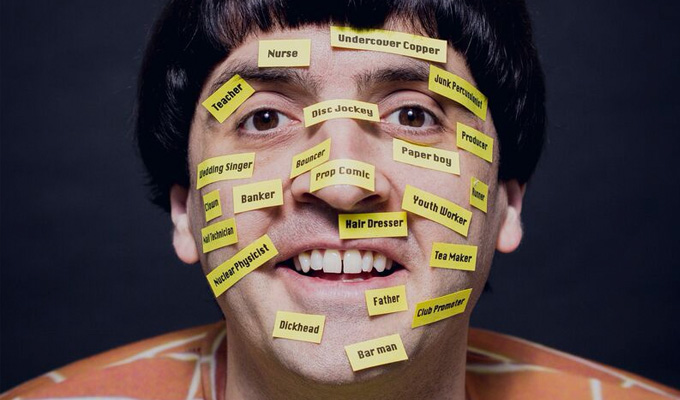 'When I tried this, I got pushed out of a window'
CCTV Comedy
There's something funny about something solid meeting something else solid. If this doesn't make you at least smile, I wouldn't bother with the rest of my choices. Thanks for coming. See you soon xxx
Great double acts
I wanted to choose you a double act I love, but to be honest there have been so many, Morecambe and Wise, The Two Ronnies, Pete and Dud, French and Saunders, Lettluce. But where's the fun in that?
Instead I found this little beauty of a clip that is a masterclass of the double act. Some will have seen it, its pretty famous as a viral thing. This really proves the point that kids are very funny. Without knowing, these two little lads, who have been caught being naughty, give us so many little moments: they look hilarious, the way the older brother says 'Daddy' at the end of every sentence, the hierarchy of the pair with the younger copying the older one a second later than he should. The Dad trying not to laugh is funny too, with the kids picking up on it.
Don't watch the whole thing though, I reckon its all done after two minutes.
Today I found my two-year-old just after he had unsuccessfully emptied his potty all over the floor trying to get it into the bog. His face, classic.
W.C. Fields
Not being very good at writing jokes and being too private to be a good stand-up comedian, I somehow have become a physical and prop comic. So here is a good bit of prop comedy from one of those 'old black and white comedians' to show I know my heritage and that.
I tried this in a pool hall once and got pushed out a ground floor window. I ripped my jeans and landed in a bucket of sand with loads of fag butts in. Then she left me.
A few years ago I saw this video for the first time. Couldn't get enough of it. Everyone knows him now. David Earl. Proper funny. Check out his Steve Cumberland too if you haven't already. (Of course you have)
American kids
Sometimes kids are funny on camera and it goes viral and then they go on a talk show and they just aren't as funny as they were in the first place. Not the case for this little American kid. Pay attention to Noah Ritter, this is how you do a talk show.
The News
In this news piece, I start off thinking the teenager is a dick, but by the end of it, thanks to the interviewer being a dick, I think the teenager is a legend.
Freddie Starr and Mohammad Ali
This isn't a funny clip. Its actually quite serious. But I wanted to include it as I think it shows how a comedian has to be engaging when telling a story and holding the attention of the audience.
And in this case it's Mohammad Ali. A great fighter yes, but also a very funny, vocal and charismatic man to go up against. Freddie Starr is telling the story and even though Ali tries to interject, Starr keeps the upper hand.
Chas and Dave
When Dad visited us as kids he often played Chas and Dave in the car. I loved them then and I love them even more now. I play them in the car and my son goes mad for it. Hilarious looking at him in the rear-view mirror. I've nearly crashed the car so many times.
I listen to this song on the way into commercial auditions, it really helps get me in the right frame of mind. The audition process in the commercial world is a weird one, I fall into the 'white male, mister average, quirky looking, always getting it a bit wrong' category. In an audition waiting room full of other men who look a bit like you, it feels good to know that no one else listen to Chas and Dave to get themselves in the mood.
Also the spirit of the song, the message (at the risk of sounding like a tit) is a pure one. Life is going to throw all sorts at you. Sometimes if you can, just laugh in its face.
• Spencer Jones is The Herbert in Proper Job, which opens at the Soho Theatre, London, this Wednesday and runs until October 31.
Published: 19 Oct 2015
What do you think?