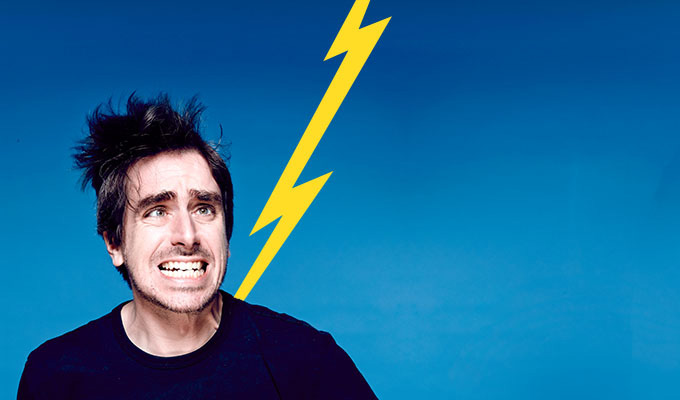 'The funniest sketch show ever made'
You might think all these clips are quite short. That's because my concentration span is short. Like my jokes.
Spike Milligan: Sandwich sketch
When Monty Python first set out, the premise was that an idea didn't need a beginning, middle and end to be funny. You could just have the middle bit. But the prototype to Flying Circus, was Spike Milligan's Q. I've chosen this clip, as I think it's a perfect opener (and would be a great way to open an Edinburgh show).
Dave Allen: Drink
The reason you see Morecambe and Wise on TV more than Dave Allen could possibly be his insistence in his contract that the BBC could only repeat it once. I considered putting in one of his Catholic church sketches, but in the end, I went with this simple gag. There is also a documentary on Dave Allen called God's Own Comedian which is worth a watch.
The Fast Show: Competitive Dad
What I liked about The Fast Show was that not only did it not have to have a beginning, or end, it didn't really have a middle either. It was just based around a character. The Fast Show characters are so good that you could drop them into any situation and it would work.
Shooting Stars: Peanuts
I watch this when I'm depressed. The background music is what makes it. And also Bob shouting 'G'won George' like it's a football match.
Big Train: Is this some kind of joke?
Big Train is the funniest sketch show ever made. It's impossible to pick a favourite sketch, but I went with this one because Mark Heap is so inexplicably funny.
Big Train: Postman's revenge
Ok, one more. This Big Train sketch is only 15 seconds long and from a production point of view there's nothing to it. The sounds in it are spot on. The birds singing, the sound of the silencer, even the tone of Kevin Eldon's bark. It's perfect.
Limmy's Show: Ambulance
I've been a fan of Limmy since he started putting videos and flash games on to his website (before YouTube was invented). Whenever I mention Limmy's Show to someone I get a confused look, perhaps because the show was restricted to BBC Scotland. For some reason it never made it onto national TV. If there's ever a petition to get it shown on BBC Two, vote Yes.
Published: 10 Aug 2015
What do you think?