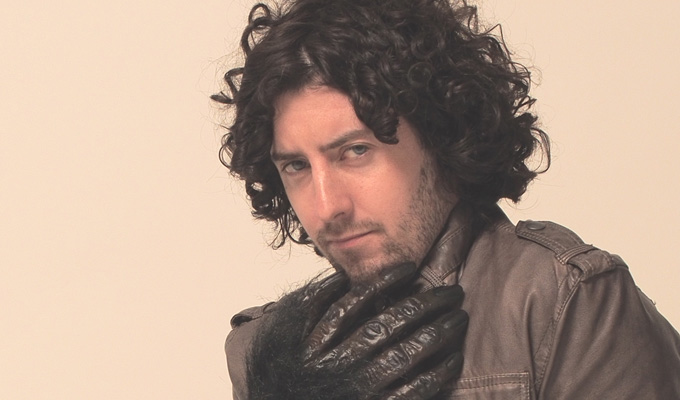 'Somewhere between mesmerising and creepy'
A few years ago a crime syndicate broke into my flat an injected me with a rare drug that means I have to laugh every four hours or die. This has turned my life into a tragic version of the great Jason Statham masterpiece Crank, Crank 2 and Crank 3 (all masterpieces) where instead of a car battery I'm hooked up to the internet to keep me going.
Lucky for me I've always liked laughing, but if I'm in need of a boost here are some of my favourites.
Garth Marenghi's Darkplace
One of the biggest crimes in comedy history, for me, is that Garth Marenghi's Darkplace never made it past the first series. It's just a perfect balance of everything. The purposefully bad acting mixed with stone cold delivery, the continuity slips, the mixed in retrospective interviews, the pube on a pipe and not to mention one of the most incredible casts to ever work together.
I discovered Darkplace by accident at University and it appealed to everything I love in both film and comedy. Ten years on and I can still watch it tirelessly.
Samurai Cop
I'm a big fan of the 'it's so bad it's good' film genre. It was hard to pick one out amongst the catalogue of gems I love to revisit but here I give you Samurai Cop. This is a film I was only recently introduced to by Richard Sandling but is now somewhat of an obsession. In the same vein of Darkplace, though without any of the self-awareness, it has some of the worst/best performances and action scenes you can ever hope to experience (and it is an experience).
To fill you in on the plot a Japanese organised crime syndicate (sound familiar) imbeds itself within LA and the police turn to the only man that can help 'The Samurai'.
This is quite possibly the greatest dialogue ever committed to film:
Going To The Store
There's a lot of weird stuff on the internet. A lot of that makes me laugh. I couldn't tell you how many times I'd watched this peach given to me by my Weirdos life companion Adam Larter. Somewhere between mesmerising and creepy it manages to make me crease with laughter, which probably says more about me than anything else. The video speaks for itself:
Ghostbusters
It's hard to think of a better comedy film. Ghostbusters doesn't waste a line, the performances are great and… well, do I have to justify this? It's Ghostbusters!!!
Tim and Eric
My friend introduced me to Tim and Eric about eight or nine years ago and changed my life. They put so much imagination into their work, whilst keeping it basic and they're just so silly, they're hard not to love. It was actually the first comedy I got into solely through the internet and I would scour YouTube to make sure I'd seen as much of their work as possible. It's hard to pick just one sketch amongst so many, so I'll pick two. If you've not seen any of their stuff before keep following the links for more and never look back. Enjoy.
Adventure Time
I got into Adventure Time after several people had independently told me it was what they imagined it to be like in my head. I can confirm that's exactly what it's like, except in there I'm voiced by Liam Neeson.
Essentially Adventure Time is designed for kids but adults you should watch it too. It's far too funny not to! On top of ludicrous plot lines, and insane characters it has an incredible post-apocalyptic back story. Everything is so well imagined and there are no limits to what can happen in any given episode. If you haven't already, get into it!
Finally what makes me laugh are my peers, awwww. Unfortunately I won't give you a video and instead just urge you to come to the annual anarchic Weirdos pantomime, A Christmas Tail , which is on from tonight until Saturday (but not tomorrow) at Heroes Grotto of Comedy in the City of London. Tickets
.
Published: 9 Dec 2014
What do you think?