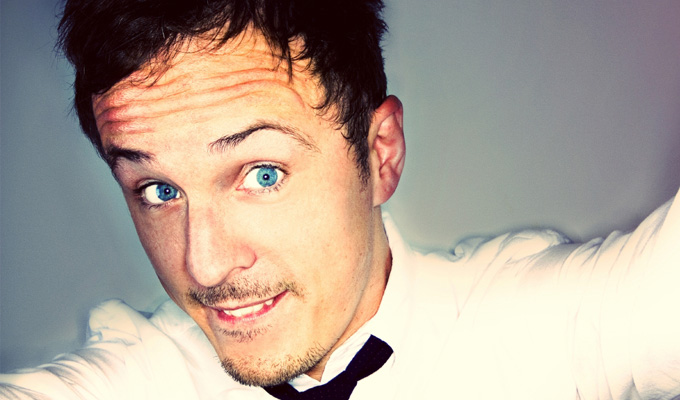 'Gene Wilder is a God'
Rik Mayall
When Rik Mayall died, it was amazing to see the outpouring of love for him. I always felt that he'd been kinda forgotten about or underrated in the past decade or so. He was everything to me as a child. I think that's why the reaction to his death was so huge.
He's one of the few comedians who appealed to children, teenagers and adults. My love for him continued from when I discovered him at the age of nine right though to adulthood as I got the more political or adult nature of his material.
He was definitely an influence on my sitcom character in How Not To Live Your Life. He made me want to play characters who are selfish and self-obsessed and quite difficult to like.
Monty Python's Flying Circus
When I about 14 my school friend (fellow comedy performer and actor Oliver Maltman) told me about this sketch he'd seen. What he then described absolutely blew my mind. So I watched the sketch (this was in the days of VHS so it took me days, maybe weeks to hunt it down and watch it) and it had me in pieces. I'd never known or seen anything like it.
The sketch was from Monty Python's Flying Circus. It wasn't the parrot sketch or the Spanish inquisition or any of the famous ones. It was this little beauty. This was the moment that my brain started to see comedy differently. After that, it was Fry and Laurie and The Fast Show and the Day Today etc. Palin is my favourite Python. His commitment to each part is always outstanding. 
Woody Allen
I think I was 19 when I discovered Woody Allen. It was actually one of his films which he didn't star in, Bullets Over Broadway, which to this day is still one of my favourite comedy movies of all time. After I saw that I decided maybe I would like that strange geeky Jewish guy. So tried some of his other movies.
I instantly fell in love with him, his films and his world. I desperately wanted to live his life in the upper west side of Manhattan, discussing art and philosophy whilst getting women who are way out of my league. Annie Hall is still the benchmark for all romcoms I think. I love the story and structure but it has all these wonderful ideas and gimmicks, like animated pieces, talking directly to camera and the subtitles scene (below) to express what the characters were really saying. All ideas we're familiar with now but he pioneered them in this one film.
When Harry Met Sally
When Harry Met Sally is definitely influenced by Annie Hall. I say 'is' like I know. Ha! I'm assuming it was. I have never met or spoken to Nora Ephron, who wrote the script, but I'd be surprised if it wasn't.
I love good romcoms. I'm talking about the sharp, acerbic romcoms like they used to make. Films like The Apartment and Bringing Up Baby. I'd love to crack a genuinely brilliant romcom that doesn't feel schmaltzy and appeals to guys too. When Harry Met Sally is hilarious, honest, edgy, feel good, raw, warm and perfect in every way. It's pitch perfect. 
Gene Wilder
Gene Wilder is a God. Fact. His performances, which always have a sense that he's on the verge of a breakdown, are thrilling to watch. Whenever there is a 100 greatest comedy films list on TV or in magazines, it's no coincidence he's in in so many of the entries: Young Frankenstein, Blazing Saddle, Willy Wonka and The Chocolate Factory, The Producers to name a few.
I loved him a child and I adore him as an adult. I just wish he could've done more Woody Allen films because I just think he would've been brilliant in them. Here's a scene from Stir Crazy, a genuinely hilarious and underrated movie and one of the four he did Richard Pryor. The prison guard is trying to break Wilder, but Wilder's character is just too optimistic and naive to break. 
Louis CK
I don't actually watch tons of stand-up anymore. Sadly, the curse of writing and performing comedy is you kind of stop enjoying it in the way you used to before you started doing it yourself. When I saw Louis CK in 2008, it was the first time I watched a stand-up and forgot that I do it as well. He was so outstandingly good that I just watched and laughed my arse off.
When you look at some of his subject matters, they're not particularly ground breaking or cutting edge yet his point of view on he world, his phrasing and his complete honesty make him the funniest stand-up working today. By a country mile. The first twenty minutes of his show Chewed Up is the best stand-up I've seen in years. 
Larry Sanders
One of my all time favourite sitcoms is Larry Sanders. This was so groundbreaking that when I first caught it on BBC Two late one night in around 1998 I though it was a real talk show. That seems stupid now but we just weren't used to seeing comedies that authentic and natural back then. I adored The Office but I discovered Larry Sanders around the time and it will always be the one to beat when it comes to that naturalistic, awkward style of comedy. And Hank is without doubt one of the greatest characters ever created. It's weird. My favourite character in Breaking Bad was Hank. Maybe I just have a thing for big bald men called Hank. 
Borat
I think the last time I laughed out loud in the cinema, repeatedly, was at Borat. I don't care who you are, the scene where Sacha Baron Cohen and his co-star wrestle naked is hilarious. When I saw it at the cinema the audience continued laughing for about five minutes after that scene had finished. I don't think I've ever witnessed that before or since.
I'm going to end by bigging up some friends. It's so hard to crack the sketch show format. But Cardinal Burns created an excellent show on Channel 4. They are wonderful performers and my favourite stuff of theirs is the silly random sketches. Go see them at The Pleasance when they play here. 
• Dan Clark: Me. My Selfie And I is on at Pleasance Dome at 20:20
Published: 10 Aug 2014
Recent Perfect Playlist
What do you think?