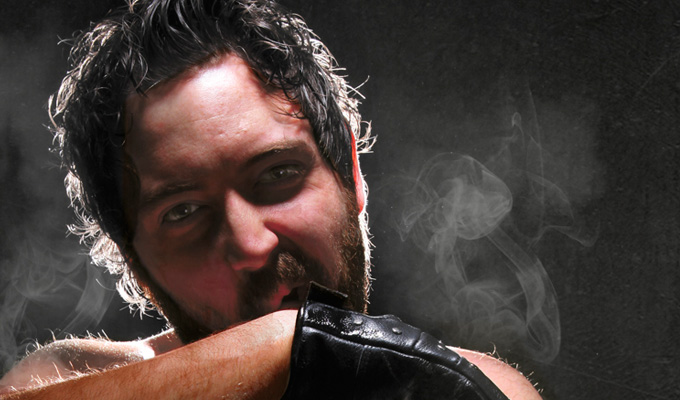 'They could have been the next Laurel & Hardy...'
Comedy was a huge part of my life growing up. I watched Woody Allen films with my Dad, Victoria Wood with my Mum, The Mary Whitehouse Experience with my sister and Jack Dee videos with my friends. It's how I relate to people and there are too many funny things that I love to write down in a list. Also, what we find funny is not just subjective, but subject to change as time goes by. I paid to see Your Highness at the cinema. Twice! Oh Helm. You silly dick.
Anyway, this list is impossible, but if we take for granted that everyone finds Stewart Lee, Arrested Development and Ben Elton's Throat Lolly song hilarious, here are a few of my favourite comedy things…
Rob Reiner's 80's Run
I haven't really wanted to see one of his films since The American President in 1995, however Rob Reiner really does deserve a lot more credit than all the credit he already receives, because it's easy to forget just how fucking good he can be.
For a 15-year period he not only had a fantastic run of movies, but he genre hopped from film to film, making not just consistently good movies, but often some of the best movies within those genres. A Few Good Men is not just a good film; it remains one of the best courtroom dramas ever made. Misery is not just a good Stephen King adaptation (an achievement in itself), but a defining horror movie – he was really, really good.
In the 80s he made a run of comedies back to back. This Is Spinal Tap (1984), The Sure Thing (1985), Stand By Me (1986), The Princess Bride (1987) and When Harry Met Sally… (1989). Each film falls into a comedy subgenre; mockumentary, teen comedy, fantasy/fairy tale and with When Harry Met Sally… perhaps the last perfect adult romantic comedy ever made.
Okay, so Stand By Me isn't technically a comedy, but it mixes such a large amount of humour with its coming-of-age story that it's not totally out of place among the other films. And although his dad, Carl, deserves a place on every comedy list for directing the first half of The Jerk alone, when you look at each of those films you realise that Rob Reiner made a set of films that could all happily sit in the Top Ten of their respective subgenres.
Tommy Boy
Even at the time I dismissed Tommy Boy as just another shitty, dumb 90's comedy. There were lots of them about. Usually starring Paulie Shore. Or Brendan Frasier. Or sometimes Paulie Shore and Brendan Frasier. I can't remember the circumstances that led to me and my sister going to see it at the cinema, especially since Babe was playing in the cinema next door, but we did and I have loved it ever since.
Basically it's a road movie in which a fat man and a thin man travel cross-country selling break pads while the fat man (Chris Farley) gets hit in the head over and over again and the thin man (David Spade) is sarcastic.
Chris Farley and David Spade only made two films together before Farley died, which is sad because had Farley lived, they could perhaps have a modern double act to rival Laurel and Hardy. As it stands their other movie was Black Sheep and Black Sheep is shit.
Tommy Boy is endlessly quotable, has a great supporting cast including Rob Lowe, Bo Derek, Brian Dennehy and Dan Aykroyd, and is consistently funny. Although what makes it stick with me is how much heart it has.
Even though he was big, Chris Farley was incredibly agile (he studied ballet at college), and had a fantastic comic face and a warmth to his performances. David Spade was the perfect foil for him, playing the sarcastic jerk character. Tommy Boy works as a showcase of all their best bits from SNL and when I watch it, it makes me happy. End of.
Steve Martin
I love Steve Martin. I grew up watching Steve Martin. I used to go to the video shop and trawl through the comedy section for Steve Martin films. He's the best Oscar host they've ever had.
His album Let's Get Small (1977) has some of my favourite routines on it. His novella The Pleasure Of My Company is lovely. His collection of writings Pure Drivel is hilarious. The book he wrote about his early stand-up career Born Standing Up is a must-read for anyone interested in comedy and is an insight into his working method.
His cameo in Little Shop of Horrors (1986) is one of the best things ever put on film. He guest hosted SNL more times than anyone else. His old appearances on The Johnny Carson show are legendary. Add to that the fact he made, amongst others, The Jerk, The Man With Two Brains, LA Story, The Three Amigos, Bowfinger, Father of the Bride, Parenthood, Dirty Rotten Scoundrels, Planes Trains and Automobiles, Roxanne, Dead Men Don't Wear Plaid and had a cameo in the original Muppet Movie.
Plus he's an amazing banjo player and musician.
Steve Martin is one of the most talented comedians that ever lived.
So fuck off about Cheaper By The Dozen 2.
Les Dawson
Just after my BBC Three pilot, Heavy Entertainment, aired on TV last month I got a Private Message through Facebook telling me I was a cunt that had ripped off 'Vic Reeves Big Night Out' and Russell Kane.
I think it's clear to anyone that's ever seen me live just how much of Russell Kane's act I have stolen. I quite literally owe him everything I have ever achieved in my entire life. Well done that man for piecing the puzzle together. I am, of course, being sarcastic.
However I did grow up watching Vic Reeves and Bob Mortimer (I was just the right age for The Smell of Reeves and Mortimer) so if there is some of R&M that seeped into my act, then I don't deny it. However, the person I was trying to rip off was Les Dawson.
Maybe because he had a working-class, Northern background, Les Dawson sometimes gets lumped in with comedians like Bernard Manning. Really he was as far from that sort of thing as you can get, being a multi-multi-talented, comedian, singer, writer, actor, musician and game show host. He was the definition of an all-rounder.
Watching him play piano badly just absolutely never ever gets old – he was to piano playing what Tommy Cooper was to magic, but he had more depth and variety than Cooper. And when he hosted Blankety Blank, he completely undercut the show he was hosting by acting like it was a massive inconvenience to him, looking as if he had better places to be and showering his the celebrity guests with total contempt. He played miserable perfectly and everyone loved him for it.
Steve Coogan: The Tony Ferrino Phenomenon
For me, and I say this with absolutely no hint of irony whatsoever, TV peaked with the airing of The Tony Ferrino Phenomenon. I taped it off the telly in 1997 and watched it so many times that I wore the tape out.
The songs have stuck with me for half my life now and coming from a place that doesn't really enjoy musical comedy (even though I am guilty of performing it myself) the song-writing, musically and lyrically is outstanding. It's had a massive influence on me to the point that I have to rewrite songs sometimes because they sound too much like Tony Ferrino songs.
Tony Ferrino is Portugal's number one singing sensation and The Tony Ferrino Phenomenon satirises light entertainment variety hours while at the same time being exactly that. It's broad funny and silly in a way that Steve Coogan hasn't really attempted since and contains spot on guest appearances from Britain's Number One Funny Man – Gary Wilmot, Simply Red's Mick Hucknall and Kim Wilde (doing a better job with the live version of Short Term Affair than Björk did on the accompanying album release).
I love Steve Coogan and this, along with the first I'm Alan Partridge series, The Trip and his 1998 Live Show The Man Who Thinks He's It are not just some of my favourite things he's done, but some of my favourite things.
Alice Cooper
Finally, it's a bit of a shoehorn, but Alice Cooper has had such a huge impact on my life and career, it would seem ungrateful of me not to include him. I love him so hard.
I had been aware of Alice Cooper whilst growing up. My sister had some of his 7-inch singles on vinyl, but I was young and I was more interested in listening to Do The Bartman. Although I'd seen him in Wayne's World (1992) and remember seeing him interviewed on Clive Anderson's All Talk, it wasn't until about a year later when I was round my friend's listening to Lost In America, his latest single at the time, that he properly blew my little head off.
Musically it was quite heavy and it sounded fucking cool, but beyond that it was really funny. Right then and there I knew what I was going to love for the rest of my life.
What makes Alice Cooper stand out for me is the humour that cuts through everything he does. Whether he's singing about necrophilia, stabbing a baby with a samurai sword or getting his head cut off with a guillotine, he's doing it all with a glint in his eye that let's you know that it's all a bit of fun. And if a 65-year-old, teetotal, golf-obsessed, Christian can make fucking a corpse sound like a bit of fun, then that is true comedic genius.
• Nick Helm: One Man Mega Myth is at the Bloomsbury Theatre this Friday and Saturday.
Published: 4 Nov 2013
What do you think?