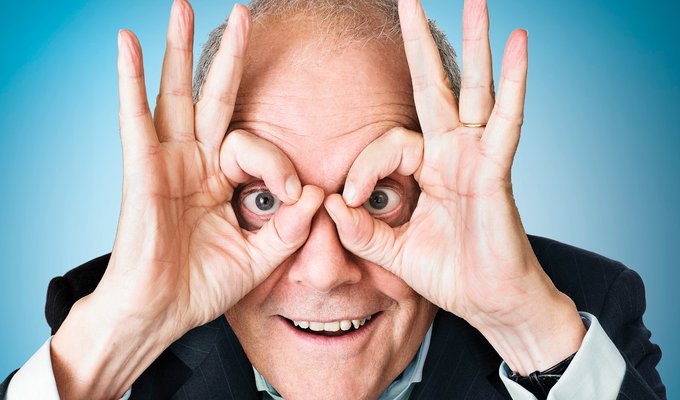 'Ridiculous and dainty – just like him'
Arthur Askey singing the Bee Song
When I started out - at the beginning of the 1970s - I hosted a BBC radio comedy series with Cyril Fletcher who had started out as a stand-up in the 1930s before stand-up was called stand-up. Through Cyril I met a raft of the early radio comedians - Charlie Chester, Ted Ray, Cardew Robinson, Tommy Trinder - and my favourite was the diminutive Arthur Askey who was also a great pantomime dame. The Bee Song is ridiculous and dainty, just like him. Later, I got to know and work with the next generation - people like Frankie Howerd and Kenneth Williams. Kenneth performing Ma Crepe Suzette is just a joy, too.
Hinge and Bracket
In the early seventies I was artistic director of the Oxford Theatre Festival and presented the amazing musical double-act, Dr Evadne Hinge and Dame Hilda Bracket, at the start of their wonderful careers. One night I introduced them to the great English actress Dame Flora Robson who thought they really were women. I think THEY thought they really were women. Patrick Fyffe, in particular, truly embodied Dame Hilda.
Later, I came to script their TV series, Dear Ladies. They were a glorious pair who created a complete world - a world that's always worth revisiting.
Jack Benny
As a child in the late 1950s, I loved the American comedian, Jack Benny - the master of the slow double-take and the interminable pause. He had a sitcom that I remember loving as a child. If you can find a clip of that, I'll be a happy bunny. If not, I'll make do with any moment from Frasier. I think Frasier and Niles Crane are blissful creations and for comfort TV I can watch and re-watch any episode anytime. I see a little of my son in Frasier and too much of myself in Niles. Most people think I am really Stewie in Family Guy.
Curb Your Enthusiasm
The agony of embarrassment in this series makes it almost unwatchable. It's New York, it's sharp, it's painfully funny. If I have a favourite episode I suppose it's the one with Michael J Fox.
Hi-de-Hi
I was a friend of David Croft, the co-creator of Dad's Army and everything else in British TV sitcom for a generation. I met David because my best friend from school, Simon Cadell, played the holiday camp manager in Hi-de-Hi and married David's daughter, Beckie.
Simon features in the show I'm currently touring, Looking For Happiness, and seeing Simon in an early episode of Hi-de-Hi, alongside Sue Pollard and Ruth Madoc, always makes me happy. It is innocent, old-fashioned fun - and no harm in that.
Stand-ups
I began as a stand-up in Manchester in the 1970s as a support act to Bernard Manning. I also worked with Charlie Williams and Les Dawson and Larry Grayson. (I should write a book. Oh, I have.) Now, having been an MP and journalist and TV reporter, I am giving stand-up another go - and meeting a new generation of performers. I got to know John Bishop when we were both in Edinburgh doing shows and then we appeared together on Just A Minute. John Bishop is full flight is irresistible.
• Gyles Brandreth's show, Looking for Happiness, is touring the UK until April when it runs at the Leicester Square Theatre in London. His book, The 7 Secrets of Happiness, is published by Short Books, priced £7.99. Click to buy from an independent bookseller.
Published: 30 Oct 2013
What do you think?