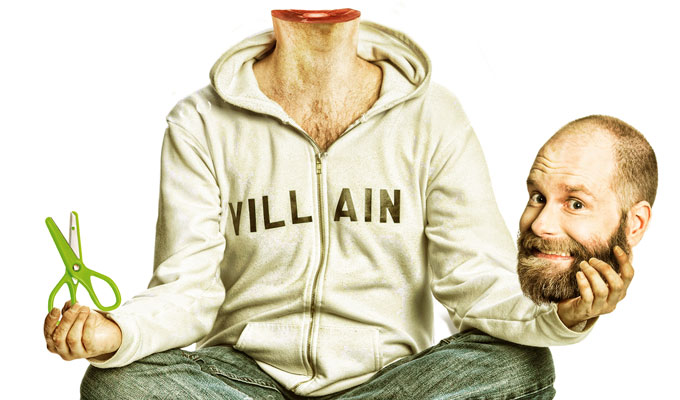 'I'm afraid of Peter Cook's talent'
Peter Cook & Chris Morris: Why Bother?
For me, this is like Jimi Hendrix forming a band with Prince!  I love every bit of shuffled paper and adjusted seat.  
Peter Cook in general
Be it E.L. Wisty, Derek and Clive or Sir Arthur, Cook has a weird hold over me when I watch him.  I'm afraid of his talent.  Whenever I need to bring myself back down to earth, I watch Cook.
Weird Al Yankovic: Bob
I often judge whether I find a bit funny or not by if I feel jealous of the person for having written it.  That is exactly how I felt when I heard Bob by Weird Al.
Brother Theodore: David Letterman appearances
The man with the 'stand-up tragedy' routine.  Most people know Brother Theodore from his role in the movie The Burbs, but he also had a weekly live show in New York. His writing seems so far ahead of its time that it almost detracts from what he's saying.
Sam Kinison: First HBO special
I love how unlikely a superhero Kinison is... he's older than a lot of his fans, fat and has a comb-over hiding under his beret during this special, yet he exudes such supreme confidence you never notice. As a kid, I had a Sam Kinison T-shirt made for me.  The lady at the store was reluctant because she said that he looked 'unsavoury'. Which, of course, just made me love him more.
South Park movie: Bigger, Longer and Uncut
I don't think I've ever laughed harder in a movie theatre than I did when this thing came out.  I had been a fan of the show for years but the movie pushed it over the top.   I respect the work of Trey Parker and Matt Stone quite a lot.  Even their first movie, Cannibal The Musical is a favourite of mine.  But the South Park movie came out at the perfect time for me, when I wasn't jaded by the business at all and I laughed unconsciously.  
• Terry Clement: Din Times 8 is on at the Underbelly Cowgate, 20:05
Published: 22 Aug 2013
What do you think?