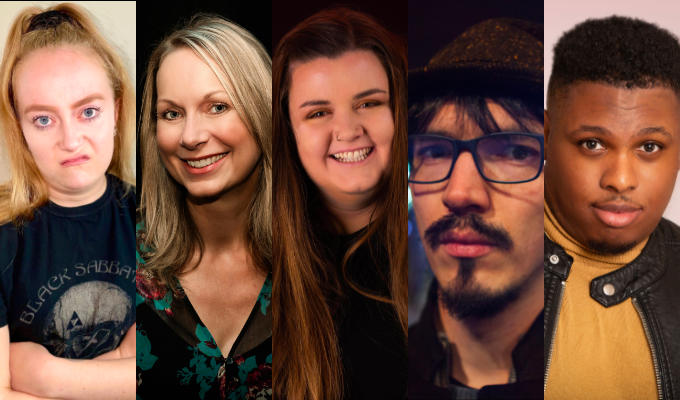 The soon-to-be famous five?
The Birmingham Comedy Festival Breaking Talent Award is back after a two-year hiatus.
Finalists Richard Dadd, Tal Davies, Jules O'Brian, Lovell Smith and Hannah Weetman will be competing for the title at the Glee Club on October 7.
Hailing from Birmingham, Richard Dadd made his stand-up debut at The Holly Bush in Cradley Heath in 2019. By day a voice-over artist, Richard often appears in character as Satan, and describes his style as 'sheer fiction,' often combining comedy with 'a dash of tragedy'.
'During lockdown, I took my stand-up characterisation of Satan and turned him into a more rounded and fleshed-out character by subjecting him to intense philosophical interrogation from Eric Rushton for our podcast, Tea With The Devil,' he said. 'This evolved into a two-man live show which we debuted at Birmingham Comedy Festival 2021, and it was one of the most thoroughly enjoyable gigs I've ever done.'
Dadd has also collaborated with magician Damon Conlan and appeared on Mark Watson's 24-hour Twitch show with Mary Flanigan.
Born in Sutton Coldfield, Tal Davies grew up in nearby Tamworth, and now resides in Birmingham's Jewellery Quarter.
A graduate of James Cook's stand-up comedy course, Davies made her debut at the Hare And Hounds, Kings Heath, in February 2019, and cites Sarah Millican, Joe Lycett, Dylan Moran and the late Sean Lock as some of her formative inspirations.
She says: 'I blend sarcastic, observational humour with self-deprecating stories based on my own life experiences, and throw in some daft pop culture references too. My delivery is quite deadpan and low energy so I try to ensure my writing is sharp to compensate for that. I've been told I have a way with words, so I aim to use that to my advantage when embellishing my embarrassing tales of woe.'
Jules O'Brian first took to the stage in 2017 for a charity night at The Comedy Loft in Birmingham. A keen fan of Rik Mayall, French and Saunders, Victoria Wood, she states her stand-up style is 'Butter wouldn't melt meets Is That All There Is?' – a reference to the dark song made famous by Peggy Lee.
An English tutor, O'Brian lives in Tamworth, Staffordshire, and performed a triple-header with pals Davies and Weetman during the 2021 Birmingham Comedy Festival.
Birmingham born and raised, but now living in Dudley, Lovell Smith is another graduate of James Cook's comedy course, first performing in public at the end-of-course showcase at the Hare And Hounds in mid-2019.
With a style that's 'self-deprecating with observations on everyday life,' Smith is currently between jobs, ('technically that makes me a full time comedian').
He's a big fan of Joe Lycett and Black Country comic Darren Harriot, saying: 'In an industry which is heavily based on location [and] usually being in London, those two are proud Brummies that are doing really well.'
A resident of Castle Bromwich, Birmingham, Hannah Weetman also began performing in 2019, and currently combines stand-up with working in a Brum call centre, advising callers about council tax ('Ironic as I live with my parents and don't pay council tax,').
She says: 'I'd say my comedy style is honest, sometimes surreal, loud. [And] my comedy icons and inspirations are Rik Mayall, Caroline Aherne, and Sean Lock.'
A spokesperson for Birmingham Comedy Festival said: "After temporarily pausing Breaking Talent in 2020 and 2021, due to the pandemic, we're so pleased the award is finally back, and with an amazing line-up of next generation West Mids talent. This will be a tough decision for our judging panel.'
Based on live performances over the last year, participating acts have been nominated by comedy course tutor James Cool, The Glee's booker, Adam Jaremko and comics Josh Pugh and Celya AB.
The final is hosted by Cook and closes with a special set from Glenn Moore and kicks off the Birmingham Comedy Festival.
Published: 1 Sep 2022