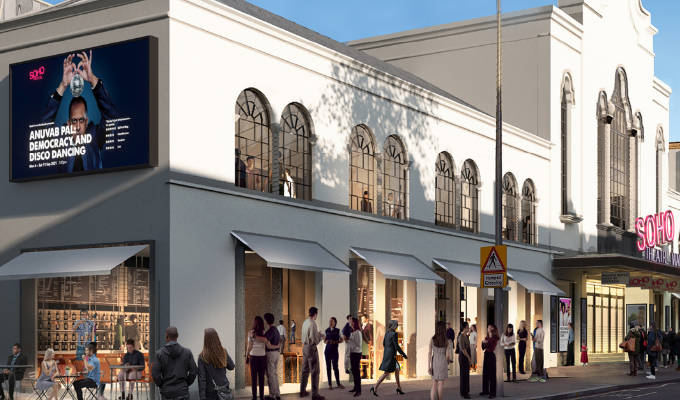 Wanted: A creative head for Soho Theatre's new venue
⬛ AD FEATURE
Soho Theatre is seeking an artistic leader for its exciting new venue in Walthamstow.
The venue – known for its pioneering productions of new comedy, theatre and cabaret work ​ – is looking for a creative director able to bring big, bold ideas to life.
It is a unique opportunity for an artist, cultural practitioner, programmer or creative leader with an inspirational voice and vision – and would suit someone with strong love and connection to live comedy.
Set to open in early 2023, the innovative partnership between Soho Theatre and Waltham Forest Council will transform the glorious former Granada Cinema into the new 1,000 seat Soho Theatre Walthamstow.
Soho Theatre's vision is to create 'a local theatre with a national profile', becoming a home to comedy, theatre, cabaret and an annual panto – a cultural hub with education and community spaces, one-off events, and buzzing bars where artists, locals and audiences mix and mingle.
The creative director will help set the agenda for this transformation and make a big cultural impact, working with a highly experienced team to develop, plan and articulate the launch programme for the opening year.
They will represent Soho Theatre's values and vision, and introduce the venue to local audiences and London's wider cultural scene.
Here, Alessandro Babalola, one of the chairs of the Soho Theatre Walthamstow Board, explains more:
The original venue has a rich history as a beautiful 2,200 seat cinema, with an impressive live music heritage – acts that have graced the stage include the Rolling Stones, The Ronettes and Johnny Cash.
This is a unique opportunity to re-imagine its future as a home for world-class comedy, performance, inclusive participation work and events that will inspire the local community and beyond.
For more details of the job, and to apply, visit the Soho Theatre website. The deadline is 9am on Monday.
Published: 1 Dec 2021
What do you think?