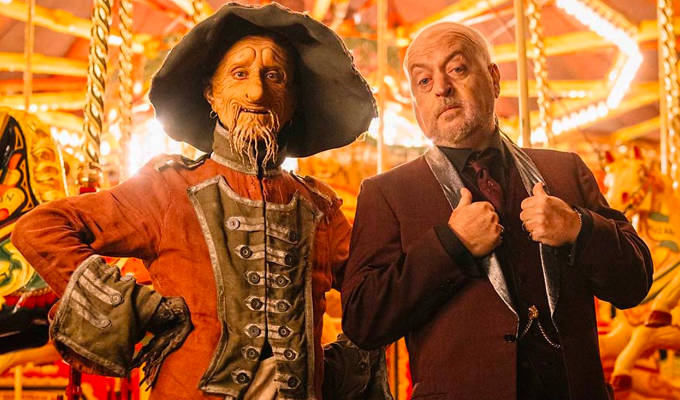 First look at Bill Bailey in Worzel Gummidge
Here is the first picture of Bill Bailey as he will appear in Worzel Gummidge this Christmas.
As Chortle reported in September, the comedian is playing a character called Mr Peregrine in the episode entitled Calliope Jane.
It has now been revealed that the character runs a travelling fair that comes to Scatterbrook for one night only.
Worzel - played by series creator and director Mackenzie Crook – wants to attend, but can't be seen wandering around by humans. However there is a legend of a fairground organ that has the power to send humans to sleep so that scarecrows can enjoy the rides.
Meanwhile Aunt Sally – as played by Vicki Pepperdine – goes on an adventure with another former fairground attraction, Calliope Jane, played by Nneka Okoye.
It is one of two new hour-long Worzel Gummidge films coming to BBC One this Christmas.
In the second, Twitchers, a raging thunderstorm brings a flock of rare birds to Ten Acre Field, attracting a swarm of birdwatchers too.
Crook previously said: 'We had a happy summer making these films and I hope some of that comes across on screen.'
Published: 23 Nov 2021
Recent Other News
What do you think?