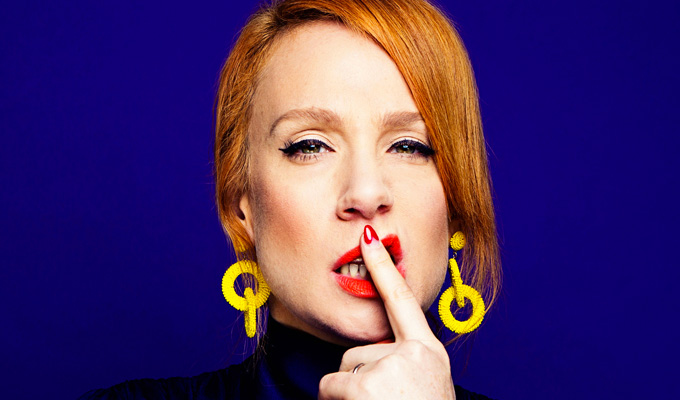 Sara Barron announces first tour
Sara Barron has announced an autumn tour of her latest solo show, Enemies Closer.
Comprising 30 dates, it will be the first UK tour for the US-born comic, who was nominated for best newcomer at the 2018 Edinburgh Comedy Awards.
In the show the Barron promises to explore 'kindness, meanness, ex-boyfriends, current husbands, all four of her remaining friends, and two of her 12 enemies'.
She said: 'As an American comic, I can't be like, "YeeHAW this tour is gonna be AWESOME!" without forcing my UK audience into a full-body cringe.
'But may I just say.... I think it *will* be awesome, but I'm saying it in an "I-live-in-Britain-and-buy-all-my-bras-from-M&S" kinda way.
'The UK comedy scene is one of my great beloveds - alongside crafty passive-aggression - so touring this show is truly the fulfilment of a dream. So come if you dig an artful rant. Stay at home if think you're "a positive person". I hope to see you there!'
The tour begins on October 21 at Bath's Rondo Theatre and will include six nights at London's Soho Theatre before concluding at the Brighton Komedia on November 14.
Tickets go on general sale at 10am on Thursday.
SARA BARRON TOUR DATES
02 October: Bath Rondo Theatre
05 October: Edinburgh The Stand
06 October: Glasgow The Stand
07 October: Newcastle The Stand
08 October: Aberdeen The Lemon Tree
09 October: York Theatre@41
10 October: Manchester Frog & Bucket
11 October: London Soho Theatre
12 October: London Soho Theatre
13 October: London Soho Theatre
14 October: London Soho Theatre
15 October: London Soho Theatre
16 October: London Soho Theatre
19 October: Crawley The Hawth Studio
20 October: Leeds Sheaf St.
22 October: Tiverton Tiverton Community Arts Theatre
23 October: Cambridge Cambridge Junction
24 October: Birmingham The Glee Club
27 October: Leicester Firebug
28 October: Nottingham The Glee Club
29 October: Selby Town Hall
02 November: Swindon Arts Centre
03 November: Cardiff The Glee Club
04 November: Oxford The Glee Club
06 November: Guildford G Live
07 November: Norwich Voodoo Daddy's
10 November: Corsham The Pound Arts Centre
12 November: Maidenhead Norden Farm Centre for the Arts
13 November: Bristol The Bristol Improv Theatre
14 November: Brighton Komedia Studio
Published: 20 Jul 2021
Recent Other News
What do you think?