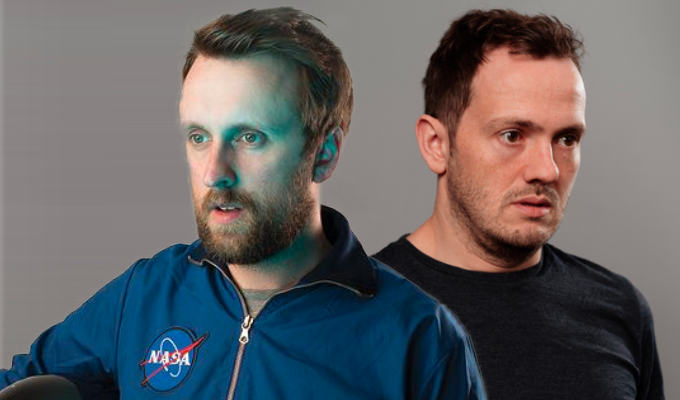 New podcast from Stuart Laws and Matt Winning
Stuart Laws and Matt Winning are to launch a podcast looking back at their time on an entirely made-up sitcom.
In Up Your Footfall, the comics will reflect on their time on the fictional comedy Shopping Centre, which allegedly ran for six successful series from 2009 to 2015.
The podcast, which launches on Wednesday, is inspired by real-life sitcom stars who take a nostalgic look back at the show that made them famous in podcasts such as Office Ladies, and Fake Doctors, Real Friends with Zach and Donald.
Each episode of Up Your Footfall will involve the pair imagining themselves watching episodes - with audio clips - and interviewing the stars and crew.
Laws said says: 'A chance to relive the glory years of being the star of a beloved sitcom was tantalising and I just knew that Matt would jump at the opportunity to join me and discuss the luck involved in his casting and how he managed to make his three or four lines of dialogue per episode really sing."
Winning added says: "Stuart got in touch, begging me to join him on this trip down memory lane, so I said: yes, as long as I don't get offered any extra work then I should be able to record a few episodes here and there."
Producers Turtle Canyon Comedy will be releasing the six-episode podcast through Global, with a second series to follow. Rhiannon Shaw wrote the show with the pair.
Published: 5 Apr 2021
Recent Other News
What do you think?