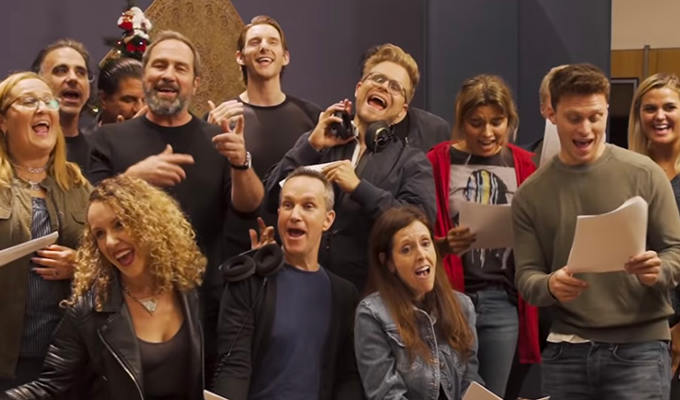 Comedians re-release festive fundraising track
Christmas Magic – a charity song featuring 60 top US comedians – has been re-released today to raise money for struggling performers.
Howie Mandel, Jim Jefferies, Rich Fulcher, Brian Posehn and Richard Lewis are among those singing line in the We Are The World-style song in aid of Comedy Gives Back.
The non-profit organisation helps stand-ups in times of need, offering emergency financial relief grants, and access to mental health services and substance abuse treatment.
The release of the song, initially recorded last year, follows an eight-hour streaming fundraiser last April which raised more than $500,000.
Christmas Magic costs 99p from iTunes or Amazon or you can make a donation here.
The full list of comics taking part is: Avery Pearson, Howie Mandel, Jim Jefferies, Adam Devine, Louie Anderson, Kristin Hensley, Jen Smedley, Nick Rutherford, Anjelah Johnson, Richard Lewis, Steve Rannazzisi, Jason Sklar, Randy Sklar, Nick Swardson, Lisa Ann Walter, Brian Posehn, Greg Fitzsimmons, David Koechner, Sasheer Zamata, Arden Myrin, Jordan Baum, Scott Aukerman, Kurt Braunholer, Doug Benson, Jeff Ross, Jackie Tohn, Mary Lynn Rajskub, Steve Byrne, Sherri Shepherd, Adam Ray, Brad Williams, Jade Catta-Preta, Justin Martindale, Tony Hinchcliffe, Adam Conover, Josh Adam Meyers, Henry Phillips, Stephen Kramer Glickman, Rich Fulcher, Hal Sparks, Chaunte Wayans, Sandy Danto, Wayne Federman, Stevvi Alexander, Jenny Karr, Jimmy Pardo, Jeremiah Watkins, Jon Rudnitsky, Joe Sib, Michelle Ortiz, Wendy Liebman, Tom Rhodes, Ingrid Gillming, Niccole Thurman, Johnny Pemberton, Phillip Brackin, Zoe Friedman, Amber J. Lawson, Adam Carolla, Pete Lee, Jamie Kennedy, Josh Wolf, Jessimae Peluso.
Published: 25 Nov 2020
Recent Other News
What do you think?