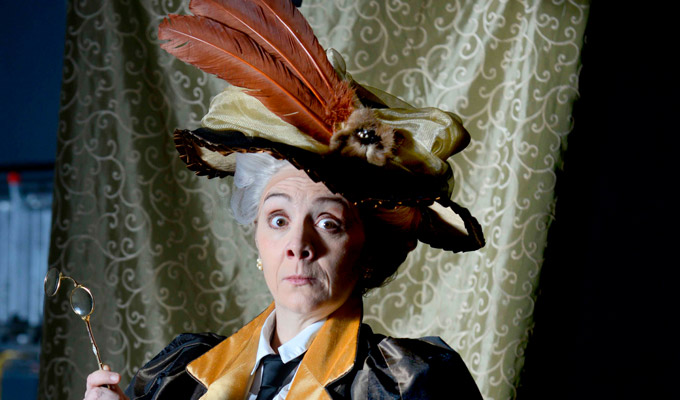 'Mary Berry meets Ena Sharples'
Here's the first look at Scottish comedy star Karen Dunbar as Oscar Wilde's comedy icon, Lady Bracknell.
The comedian, known for Chewin' the Fat, Rab C. Nesbitt and her own show, is just about to start rehearsals for Perth Theatre's production of The Importance of Being Earnest.
She said: 'A Scottish Lady Bracknell feels like a head start in terms of comedy but also in the playing of the class system. The political upheavals and class schisms in the play can give real insight into what is wrong but also how to move forward.
'Because it's done with Wilde's brilliant humour and depth it makes it not only hugely entertaining but also thought-provoking and a good talking point.
'There'll always be a bit of my TV characters in anything I do because those characters are all different parts of me but Lady Bracknell is such a unique persona I think she'll stand out from the old crowd.
'Of course, Lady B is a big snob but I think she's quite warm at heart and also has some deep insecurity. This vulnerability along with her wit gives a wee crack into liking her and maybe even identifying with her. So far, I'm pitching my Lady Bracknell somewhere between Mary Berry and Ena Sharples. We'll see what comes oot!'
The Importance of Being Earnest is directed by Lu Kemp and runs in Perth Theatre from Thursday March 5 until Saturday March 21. Grant O'Rourke will play Algernon, Amy Kennedy plays Cecily, Caroline Deyga is Gwendolin and Daniel Cahill plays Jack.
Published: 6 Feb 2020
What do you think?