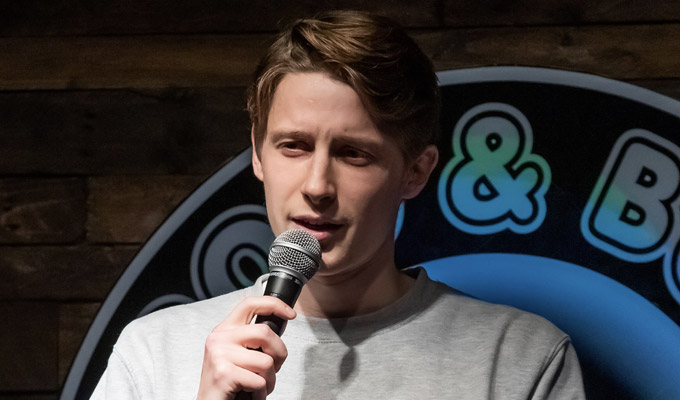 Evaldas is king of the World...
The Frog & Bucket's World Series talent hunt lived up to its name last night, recognising comics from Lithuania, Taiwan – and Lewisham.
Baltic stand-up Evaldas Karosas won the final, contested by stand-ups who had previously 'beaten the Frog' on the Manchester comedy club's gong-style nights.
Runner-up was Taiwan's Kuan-wen Huang, while a panel prize decided by the comedy industry folk in the room was won by Toussaint Douglass from South London.
The full list of finalists was:
Lewis Coleman, from Leigh, who is a filmmaker and has been performing stand-up for a year.
Toussaint Douglass from Lewisham, South London, who mixes the personal with the political while adding an absurdist slant.
Erika Ehler, a Canadian who already won the Chortle Student Comedy Award title this year.
Sian Doughty. A sixtysomething from London, who performs as a serial killer character Sally Firth.
Kuan-Wen Huang: Originally from Taiwan and now living in London, Huang first started comedy five years ago when he was living in Berlin. He's also a chartered accountant and a tax advisor.
Evaldas Karosas: Originally from Lithuania he moved to the UK to develop his comedy. He works part-time in a hotel and devotes the rest of his time to stand-up.
Ola Labib: Now living in Manchester, Labib is originally from Hampshire and has Sudanese heritage. As a hijab-wearing Muslim woman she says she's on a mission to smash stereotypes and expectations through comedy.
Karl Porter, who lives in Salford and drives a truck at the Etihad Stadium. He has been doing stand-up solidly for five months having first dabbled a few years ago.
Amy Webber, an opera singer who teaches music and is an adopted Mancunian. She's been performing comedy for less than a year.
Published: 5 Nov 2019
What do you think?