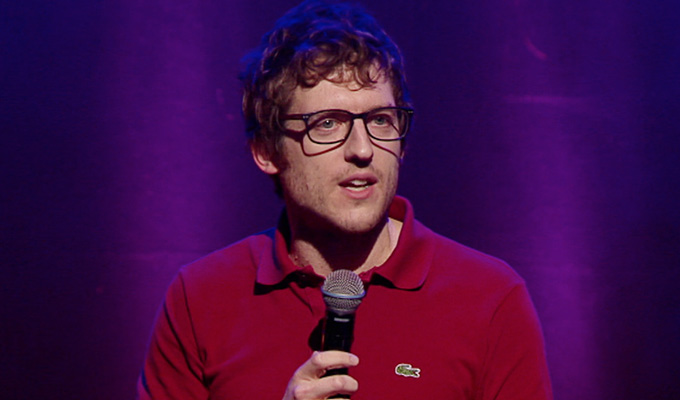 Elis James fronts a new Welsh language podcast
Elis James is fronting a new Welsh language podcast for the BBC.
In Dwy Iaith, Un Ymennydd - which means Two Languages, One Brain - the bilingual comedian will the way in which language is a key to culture, to seeing the world, and to different personalities.
James has recorded two stand-up specials in Welsh for S4C and occasionally tweets in the language.
In a recent blog post he wrote: 'It's really important to me that my child speaks Welsh, although remembering back to my teenage years, I don't want to make it into something that feels like homework.... She speaks Welsh with me, her grandparents, my sister who lives nearby and my partner [Isy Suttie] is learning the language by using the Say Something in Welsh podcast.
'Also there is a Welsh language nursery not far from my house, we go to that every Monday. They sing Welsh nursery rhymes such as "Heno, heno, hen blant bach".'
And he said: 'Welsh language standup has a lot of potential. It reminds me of punk rock or the Welsh language scene in the 70s – there are a few pioneers such as Noel James, Tudur Owen and Daniel Glyn trying to create a scene. We will be thanking them in years to come.'
His podcast is one of seven commissioned by the BBC to be released over the next year, to create its first Welsh language collection.
They are the first Welsh podasts to be commissioned directly by BBC Sounds, rather than content associated with BBC Radio Cymru programmes.
The others are:
Siarad Secs (Talking Sex): Lisa Angharad talks about sex. This podcast will be available on BBC Sounds at the end of June.
Apocalyps, Nawr! (Apocalypse, Now!): Dylan Jenkins and Tomos Dafydd invite guests to look ahead towards the end of the world. What type of apocalypse will the guests choose, and what will they choose to do during their final days or hours? Like Desert Island Discs... with more zombies.
Herbert a Heledd yn Achub y Byd… ish. (Herbert and Heledd Save the World... ish): Catrin Herbert and Heledd Medi Walters want to save the world, but they're not quite up to it yet. By making small changes to their lifestyle and with advice from a few experts along the way, the duo will try to find out what can really help the planet.
Hanes Cymru (The History of Wales): Who was the first person to set foot on Wales? Tudur Owen and Dyl Mei guide you on a journey of learning and discovery. Don't worry if you don't know much about the history of Wales at the moment - Tudur and Dyl don't either.
Bwyta, Cysgu, Crio (Eat, Sleep, Cry): This podcast discusses all types of topics that are relevant to less-than-perfect parents. However, Bwyta, Cysgu, Crio is not a parenting guide by a long chalk. It's a satirical, humorous and honest view of parenting. More Catastrophe than Supernanny…
Crib (The Comb): Elen Wyn will be solving various mysteries on behalf of those who will contact her asking for help. Not major crime mysteries, but the day to day mysteries that might seem insignificant to some, but which are significant to the individuals themselves...
Published: 25 May 2019
Recent Other News
What do you think?