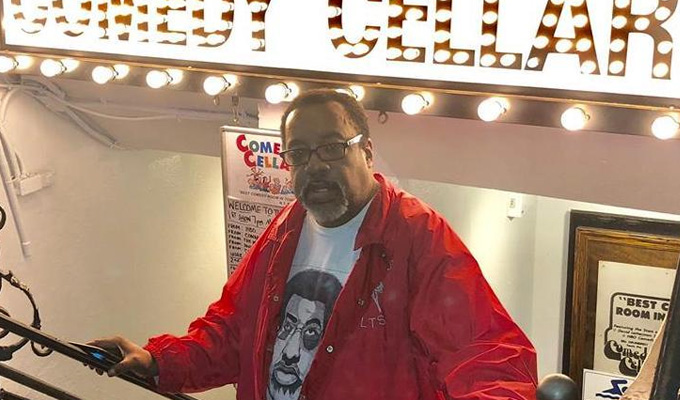 'The NY comedy scene lost a true legend today'
The New York comedy circuit is mourning the death of William Stephenson, who died at the age of 61.
The news was announced by the Comedy Cellar who called him 'a New York comedy icon, dear friend and forever a part of our family'.
No cause of death was revealed.
Fellow stand-ups have lined up to pay tribute to the Detroit-born performer, who was 30-year veteran of the city's comedy scene.
He also appeared in the Daily Show, where he had a recurring segment called 'What I'm saying', Louie, Inside Amy Schumer Pootie Tang and The Big Sick.
Sarah Silverman recalled playing poker with him, adding: 'He was a classic curmudgeon and making him laugh was the greatest feeling in zee whole world.
'I keep not dealing because I'm so sick of comics dying and it never seems real and I keep remembering and going to call him and then realizing you can't do that when someone is no longer here. (Though sometimes I still do).'
And she recalled getting a birthday card from him which 'inside it said "I love" and then he crossed out the rest and added "your tits".'
Dave Attell said: 'NYC comedy won't be the same with the passing of the late great William Stephenson. Rest In Peace.'
Ted Alexandro added: 'The NY comedy scene lost a true legend today. William Stephenson was like the bedrock of NY comedy. I often referred to him as "the lovably irascible William Stephenson." He'd bellow his deep laugh and reply "I'm rascible!" RIP my friend.'
And Marina Franklin remembered how Stephenson was 'a true funk master who knew soul music history and could make you laugh'.
Here's a clip of him in action:
Published: 15 Jan 2019
Recent Other News
What do you think?