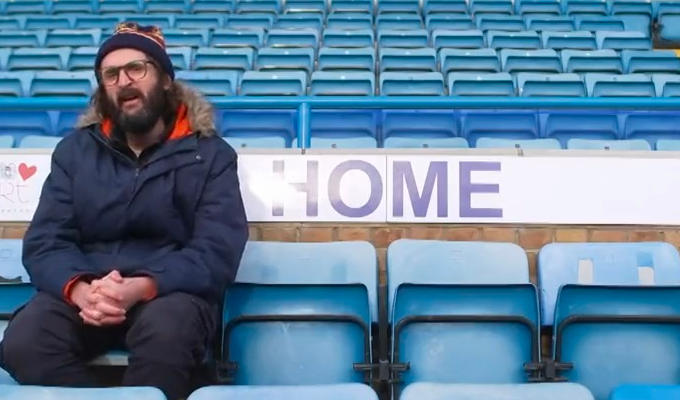 Joe Wilkinson launches BBC football podcast
Joe Wilkinson is making a new BBC podcast to see if he can become friends with a professional footballer.
Over 20 episodes of My Mate's A Footballer, the comedian will be chatting to Leeds United striker Patrick Bamford about what it takes to play the game at the highest level.
The BBC says the series – which launches today - 'will give an alternative insight into the world of football, with Pat answering any question Joe thinks of. Listeners can expect stories from inside the dressing room at a professional football club, as the two hosts get to know each other.
Gillingham fan Wilkinson said he's always wanted a professional footballer as a mate adding: 'I'm very excited about taking on the challenge. I can already feel Patrick warming to me.'
Bamford, who has been one of the hosts of The Official Leeds Utd Podcast, added: 'I had my first taste of podcasts during lockdown and I feel like it's a great way to get closer to football fans and give some insight into what goes on behind closed doors at clubs.
'Joe and I have started well, he is well on the way to becoming a good mate - but let's see how things go over the next few months…'
Stevie Middleton, the commissioning executive for BBC Radio 5 Live, added: 'It's fantastic to have added another footballing podcast to our portfolio.
' Not only will audiences be able to hear from top-flight striker Patrick Bamford about what goes on behind the scenes at a football club, but Joe Wilkinson will be asking the questions you've always wanted to know the answers to, as well as the ones that probably haven't even crossed your mind.
'This series will make you laugh and will pull back the curtain on some of the more mundane realities of being a professional footballer.'
Wilkinson last week published his autobiography, illustrated by fellow comic Henry Paker:
Thanks for reading. If you find Chortle's coverage of the comedy scene useful or interesting, please consider supporting us with a monthly or one-off ko-fi donation.
Any money you contribute will directly fund more reviews, interviews and features – the sort of in-depth coverage that is increasingly difficult to fund from ever-squeezed advertising income, but which we think the UK's vibrant comedy scene deserves.
Published: 16 Nov 2023