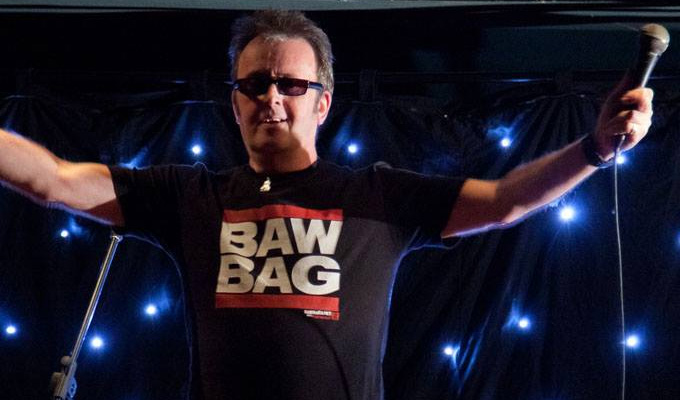 Fellow comics rally around Stu Who?
Comedians have rallied around veteran Scottish stand-up Stu Who? as he recovers from major surgery.
The comic, who has just turned 74, yesterday had his bowel removed, having suffered from advanced Crohn's disease for many years.
A GoFundMe campaign to help pay his bills while he is unable to work has already exceeded its £3,000 target – not least thanks to two £500 donations – and more is being sought.
Fellow comic Graham Mackie, who set up the fund, told Chortle: 'Stu has been in and out of hospital too many times to mention and has been unable to perform for some considerable time. He is currently being treated for cancer as well.
'Throughout these dark times Stu has remained as positive as anyone could possibly imagine but recently he's had another setback at home as his beloved wife Maggi has had her own serious health issues to fight through.
'Stu is currently in hospital and will not be able to perform for the foreseeable future, he is desperate to get home to be with Maggi, his rock.'
Stu Who? – real name Stuart Henderson – emerged on to the Scottish comedy scene in 1988, giving up his job as a warden in a YMCA hostel for 'troubled boys' to become as stand-up.
He was part of the Funny Farm collective alongside Parrot and Bruce Morton, has performed alongside the likes of Bob Monkhouse and Bill Hicks, and has appeared in several TV shows, including Rab C Nesbitt.
Writing on the GoFundMe page, fellow comic Chrissy Ross said: 'Stu was always generous with that one resource more valuable than anything on earth: his time. The tips, experience and support he's provided to myself and others has been invaluable. Get well soon sir.'
Gary Faulds – one of those who donated £500 – added: Thank you for all the encouragement, support and absolute joy watching you deliver masterclasses of stand up, when you performed.'
Launching the appeal, Mackie said: 'If you are able to, please dig deep for this man who has been a friend and mentor to many… any amount gifted to him will help give the family peace of mind financially in the coming winter months.'
A benefit gig to raise more funds is being planned for January, to be headlined by Gary Meikle, although full details have yet to be announced.
Crohn's disease is a long-term condition in which the gut becomes inflamed. The exact cause of the condition is unknown, but it may be genetic and it has been linked to problems with the immune system.
Published: 10 Nov 2023