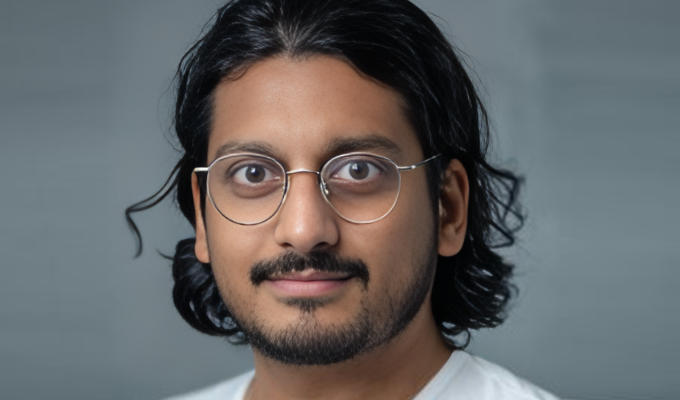 Ahir Shah scoops main Edinburgh Comedy Award
Ahir Shah has won the best show accolade at the 2023 Edinburgh Comedy Awards.
Accepting his award, he paid tribute to late comedy director Adam Brace, who worked on his previous shows, to his new wife ang to his venue, Monkey Barrel.
'I wrote this show largely about my maternal grandparents... I wanted to this job since the first time I heard them properly laugh watching Goodness Gracious Me.'
A Show For Gareth (Richards) won the panel prize, now renamed The Victoria Wood Award after it secured sponsorship from The Victoria Wood Foundation.
Organisers Mark Simmons and Danny Ward used the Free Fringe slot that Gareth Richards had arranged before his death in a motorway crash in April to host a rotating line-up of guest comedians raising money for Richards' family.
Nick Helm, Stewart Lee and Dara O Briain were among the 75 comedians who took part, raising £21,569 - including the £5,000 value of the comedy award.
Accepting the award, now renamed the Victoria Wood Prize, SImmons called Richards a great friend and a brilliant comedian... we wanted to keep his spirit alive this Fringe'.
Ward said: 'This is Gareth's award and Gareth was an exceptional comedian. For a fleeting moment the comedy world has come together as a family. That's because of Gareth.'
And Sky Studios producer Adnan Ahmed, who chaired the judging panel, called it 'a love letter to the Fringe and a colleague'.
Donations to the family can be made via: https://www.justgiving.com/crowdfunding/gareth-richards-comedian
A spokesperson for The Victoria Wood Foundation said: 'A Show for Gareth' is an extraordinary initiative by his fellow friends and comics Mark Simmons and Danny Ward and embraced by the comedy community and audiences alike. Victoria would have been part of it had she been here. We are delighted that this is the first of the Victoria Wood Awards and combines her spirit with that of the Fringe.'
Indian comic Urooj Ashfaq was named best newcomer, meaning both performance prizes went to Asian comedians.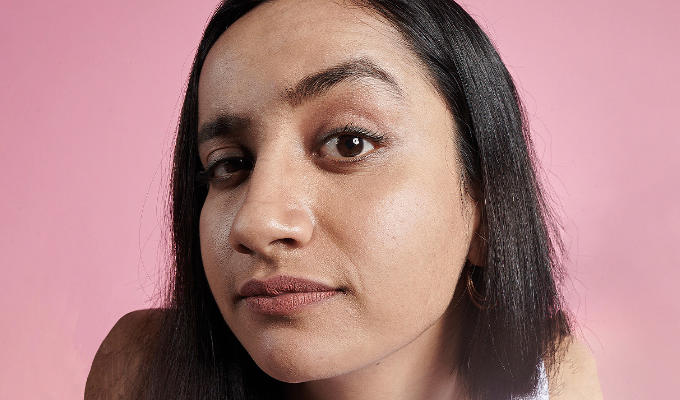 The winner of the best show receives £10,000 with £5,000 for best newcomer and the panel prize.
Awards director Nica Burns said of this year's winners 'Two outstanding shortlists, fielding so much talent, led to very intense lively judging debates. It was nail-biting to the final votes. All our shortlisted comedians will be an important part of the comedy scene for years to come.
'Congratulations to Ahir whose blending of his family's personal story is funny yet emotional, political yet positive, clever and engaging, powerful and tender. His craft as a comedian is so extraordinary that he inspires both tears and laughter. It's the most wonderful experience.
'Urooj's arrival in the UK is a breathtaking success story. Working in her second language she's never experienced a UK audience before. Her ability to engage us immediately demonstrated her natural instinct as a comedian.
'She is a delightful personality who makes you smile even before she tells you the joke that will make you laugh. Bringing a fresh, new voice to our comedy scene she has a very exciting future.'
Ahmed added: 'This year's incredible nominees prove how vibrant the Edinburgh comedy scene is; we were wowed by the quality of all the shows. In such a strong year, it felt impossible to choose just one, but Ahir's is a worthy winner and he has delivered a truly superb show…'
Also shortlisted for best show, sponsored by Sky TV, were:
Ania Magliano: I Can't Believe You've Done This
Emmanuel Sonubi: Curriculum Vitae
Ian Smith: Crushing
Janine Harouni: Man'oushe
Julia Masli: ha ha ha ha ha ha ha
Kieran Hodgson: Big In Scotland
Phil Ellis's Excellent Comedy Show
Also shortlisted for best newcomer, sponsored by DLT Entertainment, were
Bill O'Neill: The Amazing Banana Brother
Dan Tiernan: Going Under
Lindsey Santoro: Pink Tinge;
Louise Young: Feral
Martin Urbano: Apology Comeback Tour
Paddy Young: Hungry, Horny, Scared
Donald Taffner Jr, of DLT Entertainment, said: 'I have seen 113 shows so far of my booked 127 and every show on the DLT Entertainment Best Newcomer shortlist. We at DLT are proud to be supporting the next generation of great comedians. What fantastic debuts! I look forward to seeing how their work develops in years to come. Congratulations to the talented Urooj on an extraordinary achievement. Her future is bright.'
The accolades, first given out in 1981, had been at risk after organisers struggled to find a sponsor to cover the costs after broadcaster Dave's three-festival deal had come to an end. But after Burns put out a call for backers, the sponsors stepped forward.
Meanwhile, the alternative ISH Edinburgh Comedy Awards have also announced their winners this morning.
The two performance awards were shared, with best how going to Julia Masli for ha ha ha ha ha ha ha and Paul Foot for Dissolve.
Best newcomer was shared between Dan Tiernan for Going Under and Fiona Ridgewell for No Nonsense.
Their panel prize also went to Simmons and Ward for A Show For Gareth.
The ISH awards – standing for Insert Sponsor Here - were set up when in looked as if the Edinburgh Comedy Awards were going to be cancelled this year.
It was revealed at the ceremony that comedian Nathan Cassidy was behind the awards, but kept his involvement secret in case people thought it was a gimmick.
He said: 'It was a genuine attempt to see whether you could run an awards similar to the Edinburgh Comedy Awards but with volunteers, and I think we pulled it off.'
'The Edinburgh Comedy Awards has always been very special to me from a young kid, it was always so exciting and I thought an Edinburgh without the awards would be something less. And then the awards obviously got their sponsorship but we got so much support for this idea that we thought we'd do it anyway, and very happy that we did.'
Published: 26 Aug 2023