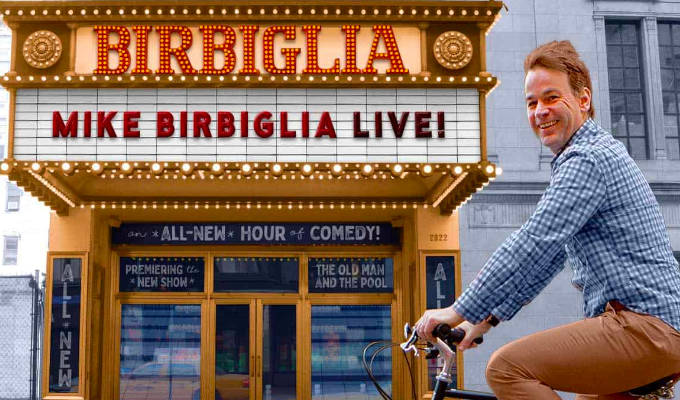 Mike Birbiglia to make his Edinburgh Fringe debut
Mike Birbiglia is to bring his latest one-man show The Old Man & The Pool to the Edinburgh Fringe and the West End, it has been announced.
The show, which has run on Broadway, will run at Underbelly's McEwan Hall for six nights rom August 22 followed by a run at Wyndham's Theatre from September 12 to October 7.
Birbiglia said today: 'When I performed my first solo show Sleepwalk with Me Off-Broadway in 2008 a woman came up to me after the first performance and said, "You've written an Edinburgh show!" And I said "I've never been to Edinburgh but thank you! I think!"
'After my second show, My Girlfriend's Boyfriend even more people came up to me, and said, "You've written an Edinburgh show!" And I said "I've heard that! And I still haven't been to Edinburgh! But I hope to someday!"
'About once a month since 2008, I have had a variation on this conversation and this August I am bringing my fifth solo show The Old Man & The Pool to Edinburgh. Do you think I'm excited about it? Of course I am. I'm finally bringing my Edinburgh show to Edinburgh. The show is a series of stories and jokes that add up to a single story about life and death and mortality, and I put my heart and soul into it. So you people better show up because it's an Edinburgh show. At least that's what I've been told.'
Underbelly's Head of Programming Marina Dixon added: 'This show is a wonderful, hilarious reflection on ageing and our modern world that will resonate with audiences young and old.'
The blurb for the show reads: 'Chronicling his coming-of-middle-age story Mike asks the big questions: Why are we here? What's next? What happens when the items at the doctor's office that you thought were decorative become functional?'
Tickets for the Edinburgh run are available now at the Underbelly website.
Published: 25 May 2023