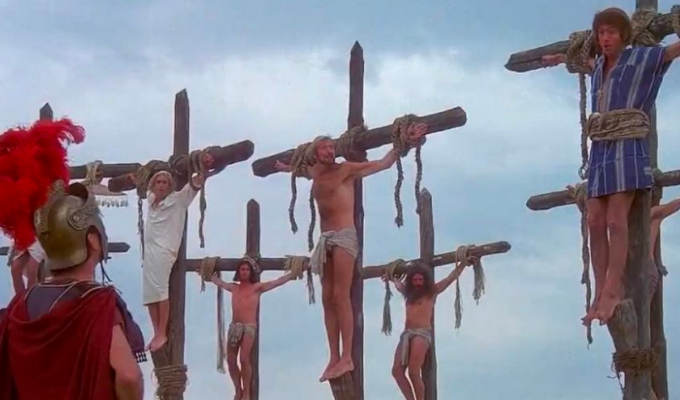 Life Of Brian stage show 'coming next year'
John Cleese has said his Life Of Brian stage show will be hitting London theatres next year.
The Python star first revealed he was working on a live version of the classic 1979 film comedy four years.
And at his one-man show last week, he told the audience: 'We are going to do it in London in the second half of next year and I've changed certain things.'
Apparently that includes removing the crucifixion scene which closed the film, although the show-stopping number Always Look On The Bright Side Of Life remains, the Daily Mail reports.
Cleese also said a scene in which a male member of the People's Front of Judea said he wanted to become a woman will have to be dropped.
Originally played for laughs, the character of Stan – portrayed by Eric Idle – tells his fellow revolutionaries: 'I want to become a woman. From now on I want you to call me Loretta.'
'What?' says Cleese's incredulous character Reg.
'It's my right as a man,' Stan says. adding: 'I want to have babies…. It's every man's right to have babies if he wants them.'
'You can't have babies,' Reg says, to which Stan responds: 'Don't you oppress me.'
'I'm not oppressing you, Stan you haven't got a womb. Where's the foetus going to gestate? You gonna keep it in a box?'
Cleese – who has long been critical of what he sees as 'woke' censorship – said actors told him he couldn't do that scene in today's climate when the did a script read-through in New York last year.
The Mail says Cleese told his audience: 'So here you have something there's never been a complaint about in 40 years, that I've heard of, and now all of a sudden we can't do it because it'll offend people.
'What is one supposed to make of that? But I think there were a lot of things that were actually, in some strange way, predictive of what was actually going to happen later.'
The stage version is also said to introduce a new character, Fiona Pilate, Pilate's wife, who falls in love with Brian.
In 2021 Cleese said that he had finished writing the Life Of Brian theatre script and said he hope it would be staged in 2022, a date that has now apparently been put back
It is not the only old project 83-year-old Cleese is working on. He is also rebooting Fawlty Towers, but now set in an upmarket boutique Caribbean hotel being run by Fawlty's daughter – likely to be played by his real-life daughter Camilla.
Earlier this week it was reported that it would begin with the funeral of Fawlty's wife Sybil.
He told The Sun: 'Sybil dies and Basil goes to see his daughter because it was all part of a naughty affair that he once had with a guest at the hotel.'
Prunella Scales, who played Sybil in the original series, is now 90 and living with Alzheimer's.
The new series is being made by American production company Castle Rock Entertainment, run by Rob Reiner. No broadcaster has yet been named, but Cleese has previously insisted it won't be at the BBC, which he often criticises, saying he wouldn't get the 'freedom' to make the show he wanted there.
Cleese is also making a show about cancel culture for Channel 4 and is set to present a show on the self-proclaimed 'free speech' channel GB News, to be produced by stand-up Andrew Doyle.
Here's the full Life Of Brian crucifixion scene which will apparently not be making it to the stage version... though there is no news yet as to how the show will end instedad.
Published: 19 May 2023