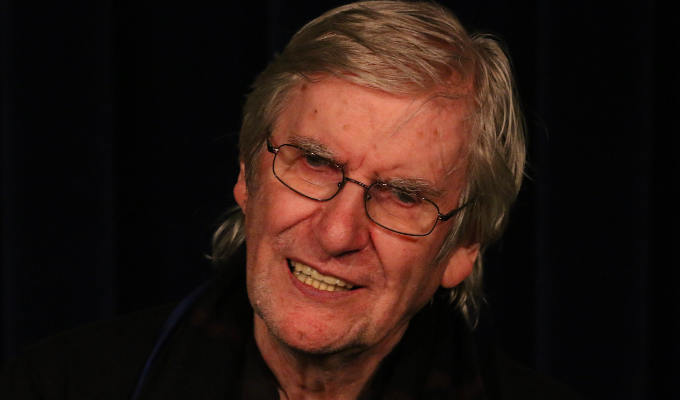 Improv pioneer Keith Johnstone dies at 90
Influential improv pioneer Keith Johnstone has died at the age of 90.
Int he 1970s, the playwright and director devised a system of training actors through a series of exercise and games including Theatresports, which forms the basis for so much short-form improv as seen on Whose Line Is It Anyway and performed by the likes of The Comedy Store Players.
A statement on his official website confirmed the Devon-born teacher had died at Rockyview Hospital in Calgary, Canada, on Saturday.
Among those paying tribute were Comedy Store Player Andy Smart, who tweeted: 'Sad to hear of the passing of Keith Johnstone. A giant of a man, who wrote THE book on improvisation. We still play his games every Sunday at the Comedy Store. I can't stress how much I owe him."
Adam Meggido and Dylan Emery, the creators of the Olivier-award winning Showstoppers improvised musical, added: ' Keith Johnstone was a pioneer of improvisational theatre, inspiring us with his books and directly teaching many members of our company. He opened people's minds to what might be possible in the theatre if you unleash people's creativity.'
In reference to his Loose Moose Theatre Company, Deborah Frances-White posted on Twitter: 'Our mighty Keith Johnstone has gone to join the great Moose in the sky. Every time the impro gods are smiling now, I'll know why. They're talking to Keith. You changed my life forever, Keith. Mine & many.'
London-based Hoopla Impro added: 'Very sorry to hear of the death of Keith Johnstone. He was a legendary impro teacher, writer and director and we were lucky enough to be taught by him and wouldn't be doing what we are doing without him. Lots of love to his friends and family and to everyone who worked with him.'
Johnstone began his career in theatre as a stage manager before transitioning to acting. In the 1950s, he joined the Royal Court Theatre in London, where he worked with playwrights like Samuel Beckett and John Osborne. It was during this time that he developed an interest in improvisation, which led him to develop his own unique approach to the art form.
In the 1960s, Johnstone moved to Canada, where he became the artistic director of the Loose Moose Theatre Company in Calgary, where he developed the Theatresports format, which pits two teams of improvisers against each other in a competitive, theatrical setting.
He wrote two books about his system; the 1979 Impro: Improvisation and the Theatre, and the 1998 Impro For Storytellers.
Published: 13 Mar 2023