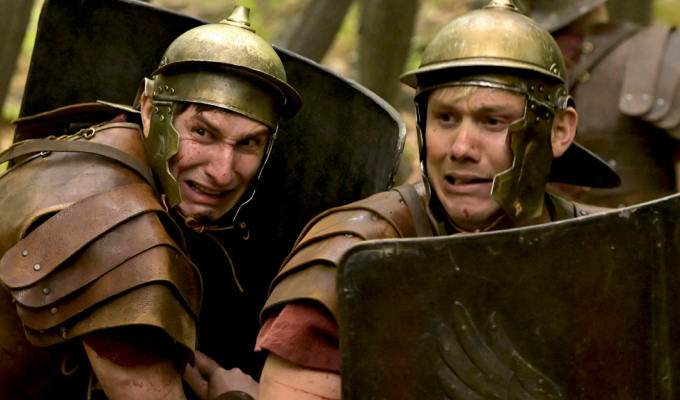 Plebs film: More details released
More details have emerged of the feature-length Plebs story that will bring the ancient Roman sitcom to an end.
Stars Tom Rosenthal, Ryan Sampson, Jon Pointing and Tom Basden will have one last outing as Marcus, Grumio, Jason and Aurelius on ITV's new free streaming platform ITV X this autumn.
The final film will be called Plebs: Barbarian Invasion and will see their characters join the army in peace time, hoping to win respect, romance and discounts at participating restaurants.
But when war's declared, they're sent to fight on the front line for a cause they don't believe in. The journey takes the new recruits from their humdrum lives in Rome to the army garrison and tribal villages on the Empire's edge.
ITV says: 'The backdrop of war allows their adventures to unfold on an epic scale.'
Karl Theobald returns to play the landlord, while joining the core cast for the finale are The Office and Breeders actor Patrick Baladi as Roman commander General Diomedes, Tori Allen-Martin (Here We Go) as warrior queen Barbronelda and Kåre Conradi (Norsemen) as Barbarian leader Segimundus.
No streaming date has yet been set for the film, which was shot in Bulgaria and Wales.
Five series of Plebs have been made since 2013. It is written by Tom Basden and Sam Leifer, who also directs.
When news of the film first broke in 2010, Leifer said: 'After five series, we wanted to go out with a bang. So we're sending the plebs off to join the army. Unsurprisingly, they won't cover themselves in glory or return as conquering heroes.
'Personally, I'm looking forward to watching Tom crawling on his hands and knees through the mud.'
Published: 3 Aug 2022
What do you think?