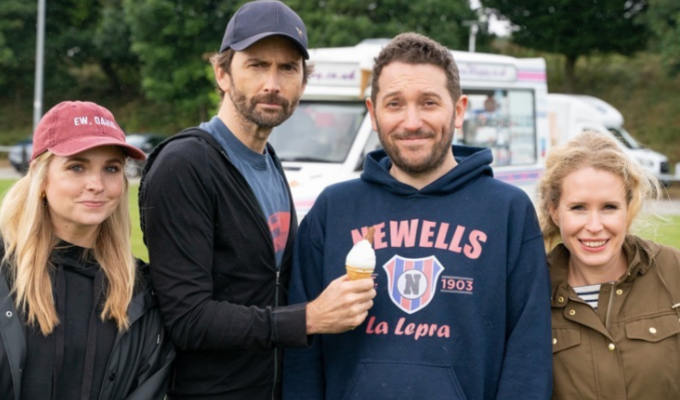 Meet The Richardsons wins Broadcast Digital Award
Meet The Richardsons has been named best comedy at the Broadcast Digital Awards.
Jon Richardson and Lucy Beaumont's sitcom triumphed over fellow nominees Brassic, Jerk, Ladhood, Starstruck and The Stand Up Sketch Show in the accolades, handed out for non-terrestrial programming.
TV trade magazine Broadcast, which gives out the awards, said judges had described the Dave show as 'lovable', 'well-crafted' and 'genuinely original'.
It added: 'Despite being hard to pin down in terms of genre, its elements of mock-doc, reality and sitcom are all cleverly used to form a strong, enduring connection with the audience.
'One judge said the Second Act production "allows viewers to feel part of the show", while another praised its "fresh, clever and funny" format. Across the board it was appreciated for its ability to hit a high gag rate whilst delving into truths about human relationships and centring on two flawed, yet lovable, characters.
'This is achieved party due to a unique writing process where a normal sitcom script is accompanied by a beat sheet allowing the performers to improvise whilst heading in the direction the story needs to go.
'This series benefitted from more star quality with the introduction of David and Georgia Tennant who play the "celebrity couple" who want to steal their show.'
Elsewhere, Munya Chawawa's YouTube show Race Around Britain won the entertainment category – beating out shows for mainstream broadcasters including Never Mind The Buzzcocks and RiPaul's Drag Race.
Broadcast said: 'The unique and genre-busting format combines elements of travelogue, chat show and sketch comedy, and gave young black talent such as Yung Filly, Harry Pinero and Nella Rose a much-needed platform through which to share their personal experiences.
'A diverse production team also helped to ensure the show hit on the most recent and relevant developments and conversations surrounding black issues - for example, examining the impact of the Welsh government's decision to include the teaching of black, Asian and minority ethnic histories in its national curriculum.
'"Funny, thought-provoking and relevant", said one judge, while another described it as "a genuinely entertaining take on serious topics". The judges also praised Chawawa as a "shining new talent".'
Drunk History's Black Stories, which aired on Comedy Central, was named best short form format; BBC Three's Zen Motoring, starring Ogmios won the separate short form scripted category; Big Zuu's Big Eats was named best popular factual show' and Sky Kids' animated sitcom Dodo took the award for best digital children's content.
The full results across all categories are available at broadcastnow.co.uk
Published: 6 Jul 2022
Recent News
What do you think?