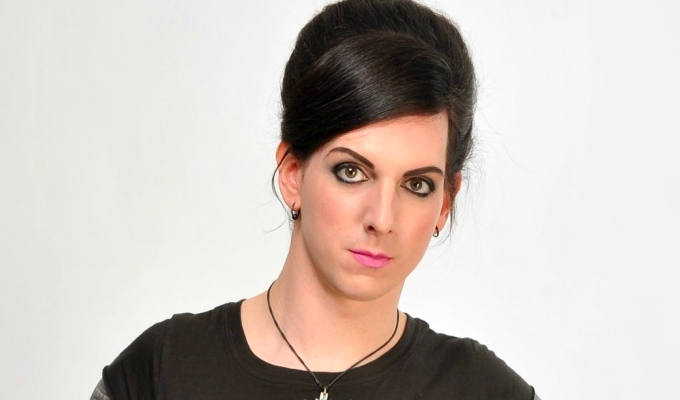 Andrew O'Neill launches an occult sitcom
Here's our pick of the best comedy programmes on TV, radio and on demand this week.
Sunday June 19
JOSIE LONG: WHAT'S NEXT: In this Radio 4 stand-up special the comedian examines the 'new normal' post-Covid, concentrating on motherhood, climate, politics and optimism BBC Radio 4, 7.15pm
Tuesday June 21
ELLIE & NATASHA: A new character sketch show from Ellie White and Natasia Demetriou featuring guests including David Morrissey and Demetriou's brother Jamie. And a song about snakes. BBC Three, 10.15pm
DAMNED ANDREW: An occult sitcom from stand-up Andrew O'Neill, narrated by none other than graphic novel legend Alan Moore. The non-binary comic plays a struggling musician and successful Deliveroo driver who has inadvertently opened a portal to another dimension in their bathroom. It also stars Sanjeev Kohli as their landlord, Jen Brister as their partner, Carly Smallman as their sister and Phil Nichol as a weird tramp. BBC Radio 4, 6.30pm
Wednesday June 22
LENNY HENRY'S CARIBBEAN BRITAIN: The comic and actor presents a celebration of British-Caribbean life with a host of famous faces including Floella Benjamin, David Harewood, Judi Love, Trevor Nelson, Billy Ocean, Andi Oliver, Levi Roots and Benjamin Zephaniah. BBC Two, 9pm
HYPOTHETICAL: This week, Liza Tarbuck, Judi Love, Josh Pugh and Amy Gledhill join James Acaster and Josh Widdicombe to ponder some theoretical quandaries. Dave, 10pm
JERRY & MARGE GO LARGE: Bryan Cranston and Annette Bening star in this comedy following the true story of how retiree Jerry Selbee discovers a mathematical loophole in the Massachusetts lottery and, with the help of his wife Marge wins $27 million, which they use to revive their small Michigan town. Paramount+
Thursday June 23
TASKMASTER: CHAMPION OF CHAMPIONS 2022: The long-awaited showdown between champions from Series 6 to 10 in which Ed Gamble destroys a bath toy, Kerry Godliman rolls a bobbin, Liza Tarbuck avoids low-flying bananas, Lou Sanders paintson skates and Richard Herring reveals his bare feet… Channel 4, 9pm
BEST OF THE FESTIVAL: The final selection of highlights from the 11-day Netflix Is A Joke festival in Los Angeles lands on the streaming platform.
Friday June 24
THIS IS MY HOUSE: Tonight's celebrity panel comprises Kiri Pritchard-McLean, Scarlett Moffatt, Richard Madeley and Judi Love. BBC One, 8.30pm
Published: 19 Jun 2022
What do you think?