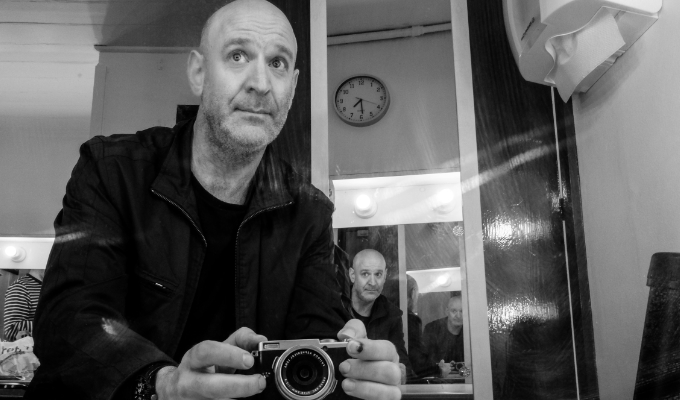 Want an NFT of your favourite comedian?
Stand-up and photographer Steve Best is getting into the NFT craze – selling certificates linked to his digital portraits of fellow comedians
The images come from his forthcoming fine art book Comedians, and show comedians including Jimmy Carr, Dara O Briain, Jo Brand and Stewart Lee in their unguarded moments backstage.
He said of the project: 'Me having a camera backstage doesn't make me a photographer to fellow comedians, but just a comedian with a camera, which means I'm able to capture the real atmosphere and deeply personal, pre-stage moments of performers.'
Now he is partnering with the FabriikX platform to launch his first collection of non-fungible tokens, which prove ownership of original digital files, even if the images themselves are copied.
Best said: 'Like many people, I suppose, I've had my eye on NFTs for a while, but it was through a comedian friend, who is also very much into crypto, who put me in touch with FabriikX, and this made me see the (digital) light.
'It's exciting to get into NFTs, at the beginning-ish (well, when it comes to fine art photography). It's a brilliant way for newer creators/artists to get their work out there and to think a little outside the box when it comes to their artwork.'
The Comedians Back to Front collection is available now, with the NFTs priced $50 and some are at $150, which include a physical copy. Other comics featured include Milton Jones, Jack Whitehall, Zoe Lyons, Felicity Ward and Mae Martin.
Lior Cyngiser from FabriikX added: 'Steve is highly respected within two different artistic circles, which he has cleverly merged to give a new edge to the juxtaposed life of the comedian. His unique background makes this expertly curated NFT collection of rare, behind-the-scenes photography highly collectible.'
The market for NFTs has cooled substantially in recent weeks, linked to a wider collapse in cryptocurrency. An NFT of Twitter founder Jack Dorsey's first tweet, purchased last year for $2.9million failed to reach $300 at auction last month.
But Best's more modestly priced tokens might prove a better way for supporters to back his work without breaking the bank.
Comedians, his third book, will be published in September as a high-end coffee table collection of fine art photography. See some of the images it contains here.
Published: 26 May 2022
What do you think?