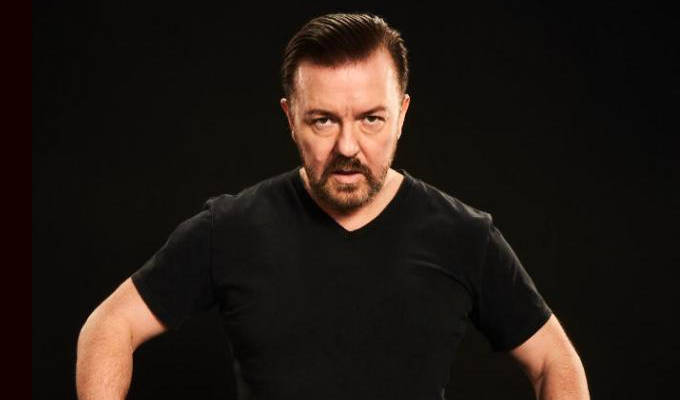 Ricky Gervais donates £427,000 to animal charities
Ricky Gervais has donated £427,243 to animal charities from the sale of premium seats for his stand-up tour Supernature.
The cash came from selling the best seats at premium prices – a tactic designed to stop ticket touts snapping them up.
It will be split three ways between International Animal Rescue, Animals Asia and Nowzad – the charity headed by former Marines commando Pen Farthing – which each received just over £142,400.
Gervais said: 'It is such a privilege to be able to help animals in need, simply by doing a job that I already love.'
Alan Knight, president of International Animal Rescue, said: "We're bowled over by Ricky's incredibly generous donation. It's a privilege to be entrusted with this money which will enable us to make a difference to countless animals' lives.
'It's been tough lately raising funds for our projects - but Ricky's support will give a massive boost to our work rescuing suffering animals from cruelty and neglect and giving them a second chance at a happy ever after life.'
Jill Robinson founder of Animals Asia, said: 'We are incredibly proud and thankful to have Ricky as a long time supporter. He has been a key voice in raising awareness of bear bile farming globally; a cruel practice that has been pushing both moon and sun bears toward extinction.
'Thanks to his genuine interest and support for our global campaigns, we have been able to reach animal lovers around the world to save these beautiful species together. As a result, in Vietnam, we are about to take the historic step of ending bear bile farming in the country forever.
'Soon, we will start to build our new sanctuary to save the last bears on bile farms, a place of peace where we will all celebrate Ricky's kindness into the future.'
Farthing added: 'The Nowzad charity, its staff and the animals we care for, are just beyond thrilled and (and somewhat still in shock) at the amazing and super generous donation from Nowzad patron Ricky Gervais.
'The man's comic talents are legendary but his passion and drive for promoting and supporting animal welfare knows no limits. Thank you Ricky – from all of us. You are the difference."'
Nowzad last year became embroiled in a political row following claims the UK government used resources to help them evacuate animals from Kabul ahead of humans trying to flee the resurgent Taliban. Boris Johnson has denied making any such intervention.
Supernature will be released on Netflix on Tuesday, in which Gervais talks about the rules of comedy, spoiling his cat and debunking the supernatural.
Published: 19 May 2022
What do you think?