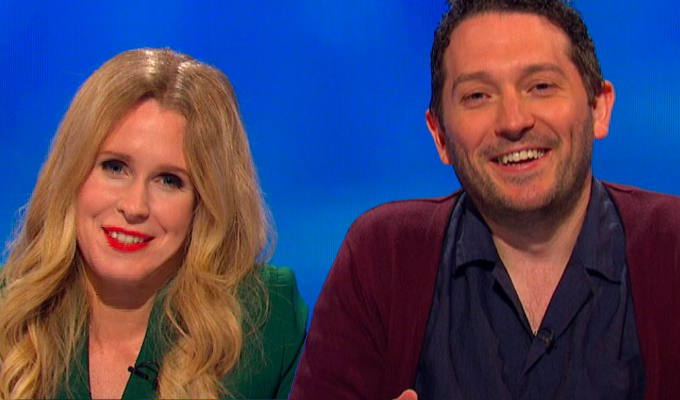 Jon Richardson and Lucy Beaumont seek the perfect celebrity couples
Jon Richardson and Lucy Beaumont are to make a new comedy entertainment series for Channel 4 seeking the perfect celebrity couple.
Jon and Lucy's Perfect Couples comes on the back of their Dave sitcom Meet The Richardsons – and has been announced the day after fellow married comedians Chris and Rosie Ramsey launched their BBC show.
Each episode of Jon and Lucy's show pit famous couples against each other in a series of rounds to discover who is the perfect couple.
According to programme-makers King Of Sunshine Productions: 'Relationship secrets are spilled as Dirty Laundry is aired, grievances shared and irritations examined, all while Jon, Lucy and a professional marriage therapist sit on in judgement, on the hunt for the perfection.'
Richardson said: 'For too long now I have snuck out of our house and, behind her back, told audiences around the country about the things Lucy does that annoy me.
'I am grateful to Channel 4 for giving me the opportunity to air these grievances to her face and hope audiences enjoy the opportunity to see a small and petty man roasted and humiliated in return, as celebrity guests and a studio audience watch on with glee.
'I hope we can make a show that will generate some much-needed laughter, make couples realise that their relationships are not as bad as they thought and make single people appreciate how lucky they are.
Beaumont added: 'Jon doesn't want to spend time with celebrities and I don't want to spend time with Jon, so I think Channel 4 have found the perfect recipe for a couples based panel show.
'Good luck to us all in all honesty, and I hope people can feel slightly better about their own relationships, and we can laugh in the face of celibacy.'
Phil Harris, head of entertainment at Channel 4 said the show would share 'some of that funny and mischievous DNA of our other panel shows including Taskmaster and Cats Does Countdown'.
Jon and Lucy's Perfect Couples - which is still a working title - will run for six hour-long episodes.
Last week, Dave announced two new series of Meet The Richardsons, amounting to 20 new episodes.
Published: 17 May 2022
What do you think?