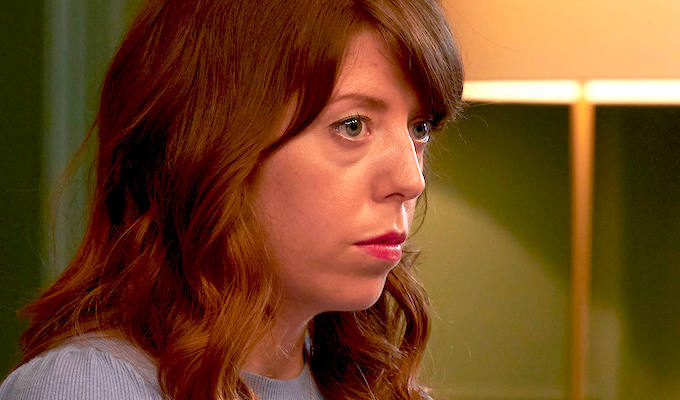 Rebecca Humphries writes a book about THAT relationship
Rebecca Humphries has written a book based on the very public collapse of her relationship with Seann Walsh after he was pictured kissing his Strictly Come Dancing partner Katya Jones.
After the comic's snog with the pro dancer hit the tabloids in 2018, the actress issued a public statement accusing him of gaslighting her over his 'inappropriate, hurtful' behaviour.
She added that she was no victim but a 'strong capable person who is now free' and hoped her story would help other women who 'feel worthless and trapped with a man they love'.
Now Walsh faces the prospect of a further backlash after Humphries signed a deal to write book based on their relationship, and what she learned from it.
The official synopsis of Why Did You Stay? reads: 'Actor, writer and hopeless romantic Rebecca Humphries had often been called crazy by her boyfriend. But when paparazzi caught him kissing his Strictly Come Dancing partner, she realised the only crazy thing was believing she didn't deserve more.
'Forced into victimhood by the story, Rebecca chose to reclaim her power, posting her thoughts on social media, including advice for other women who might be experiencing what she realised she'd managed to escape: a toxic, oppressive relationship. A flood of support poured in, but amongst the well-wishes was a simple question with an infinitely complex answer: "If he was so bad, why did you stay?"
'Using her relationship history, coming of age stories and experiences since the Strictly scandal, Rebecca explores why good girls are drawn to darkness, whether pop culture glamourises toxicity, when a relationship "rough patch" becomes the start of a destructive cycle, if women are conditioned for co-dependency, and - ultimately - how to reframe disaster into something magical.'
Humphries – who played Carol Thatcher in The Crown and is currently starring in Ten Per Cent, the British remake of Call My Agent for Amazon Prime Video, only refers to Walsh as 'He' and 'Him' in the book, although it is clear who she means.
And the 34-year-olld told The Daily Mail's Richard Eden: 'I hope the fact that Strictly was the catalyst will give this book a wide reach.'
In the intro to the book, she writes: 'I never wanted to write a book. All I ever really want to do, at any given moment, is dance about to gay songs. But I need to. I need to do it because several years after surviving a relationship (one that culminated in the bin-fire of all break-ups) I am still seeing with my own eyes some of the coolest, cleverest, sexiest women allowing their brilliance to be drained in the name of love.
And although no one actually has to answer a BS, victim-shaming question like "Why Did You Stay?", I hope that my choice to reclaim it will empower anyone who feels as lonely in their story as I once did in mine.
Walsh has spoken about he remains 'haunted' by the furore over his kiss, almost four years on – and indeed named his last comedy special, available for free on YouTube, Kiss.
In it he said that porn channel Television X offered him £250,000 to make a porn film with Katya – but she refused.
On stage joked: 'I was dubbed the most hated comedian in the country. Only I could go on Strictly Come Dancing and come out the most hated comedian in the country.
'Susan Calman, been on the year before – went on to have her own TV shows. Chris Ramsey, did it the year after – number one podcast in the country! People dressed up as me for Halloween!'
More seriously he spoke about the mental impact of being in the tabloid spotlight – and he did express regret for what I did, saying: 'Awful, I know. It's awful - I'm sorry. I'm still sorry now.'
• Why Did You Stay? A memoir about self-worth by Rebecca Humphries is published by Little, Brown on July 7. It is available to order for £15.19 from Amazon, or £17.86 from bookshop.org which supports local bookshops.
Published: 8 May 2022
What do you think?