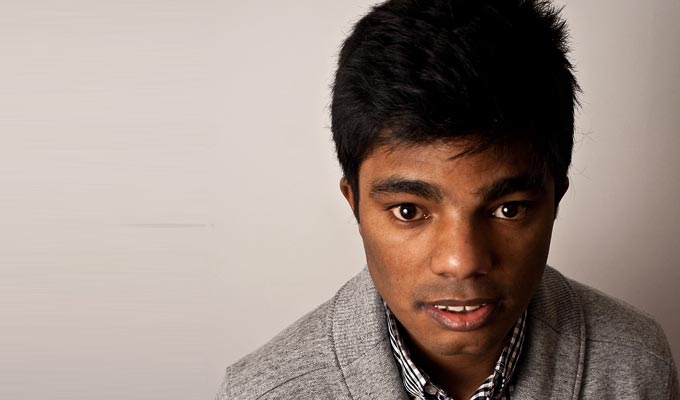 Don Biswas to discuss learning difficulties in Radio 4 special
Comedian Don Biswas is to record a Radio 4 stand-up special about having learning difficulties.
The comic has dyspraxia, mild Asperger's and ADHD, which he says caused him to be sacked from various jobs before finding an outlet in stand-up.
He will talk about those experiences in Neurotopical, which will be recorded in front of a live audience at the Frog & Bucket comedy club in Manchester next month.
The blurb for the show explains: 'At the age of 21 Don was a young fresh-faced business graduate from a typical middle-class Indian family. He wanted the same things as other people in his position, which was have a well-paid job, to get on the housing ladder and eventually start his own family one day.
'This aspiration came to an abrupt halt when he got fired from not one, but two management trainee roles, for being too slow and making a litany of mistakes. This drove Don to descend into depression and ultimately to have a mental breakdown.
'The light at end of the tunnel came through the help of doctors and his time at the Priory [clinic] confirmed he had been living with various undiagnosed learning difficulties from childhood. The key diagnosis was dyspraxia a condition causing co-ordination and organisation difficulties. A lot later Don was also diagnosed with mild Asperger's and ADHD.
'Through this journey, Don found fellow sufferers who had similar experiences as they reached adulthood and felt he had finally found his tribe. While it may sound like a cliché, it all suddenly made sense why he always struggled to fit in with the norm.
'Even today, his mild traits of Asperger's and ADHD mean many sufferers don't believe Don is on the spectrum and many neurotypicals judge Don by their own standards, because they can't see the hidden difficulties.
'Don remarks that his milder traits means he's "not so much Rain Man as Drizzle Boy".'
Free tickets for the recording are available here.
Published: 17 Mar 2022
What do you think?