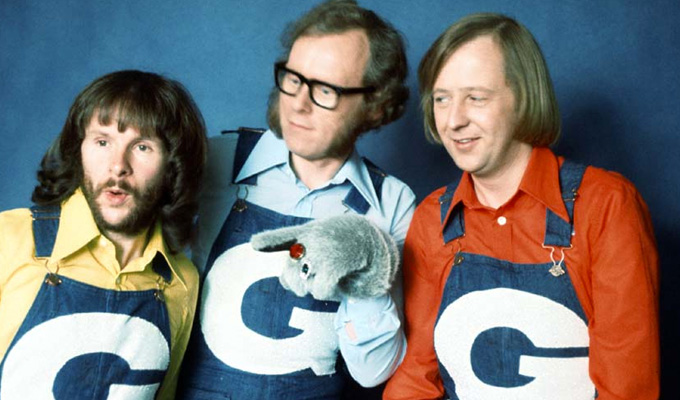 The Goodies are back... in book form
The Goodies are to make a comeback – as the stars of a new novella.
Avengers Dissemble has the backing of the surviving stars of the show, Graeme Garden and Bill Oddie, and Tim Brooke-Taylor's widow Christine.
The book – about the trio running a talent agency for superheroes – emerged from an audio project which reunited the stars in 2019. Goodies fan and producer Barnaby Eaton-Jones got the team back together to record The Big Ben Theory, a new audio story with a cast that also included Dame Joanna Lumley and Jon Culshaw.
It proved successful enough for a full series to be commissioned. But Tim Brooke-Taylor's death from Covid in 2020, at the age of 79, meant the project had to be cancelled.
However, now Eaton-Jones has converted the script for one of those shows into the short book, which will be published in March.
Garden said: 'We had great fun working on ideas for an audio series with the ever inventive and energetic Barnaby Eaton Jones, and he has now turned the first of those ideas into book form. If you don't like fun, satire, weirdness, wordplay and downright silliness then this is not the book for you.'
Oddie added: 'I have heard of a novella, but what exactly is it? A cheap Italian wine? A kind of pizza? A short irritating opera? Or an extremely entertaining little book featuring The Goodies written by Barnaby Eaton-Jones? You're right, it is a pizza. (PS Novella also plays centre forward for Juventus).'
The book - which features a foreword from Dame Joanna – is being released as a tribute to Brooke-Taylor with a quarter of the royalties going to his favourite charity, Thames Valley Adventure Playground.
Christine said: 'Tim would have been really chuffed that The Goodies are reappearing in another form, from ideas he worked on with Graeme, Bill, and Barnaby. It's also lovely to know that a portion of the sales are going towards the Thames Valley Adventure Playground charity, which he was an active president of for over 25 years.'
Eaton-Jones will be launching the book at the Goodies Forever event as part of Bristol's Slapstick Festival tomorrow. The event will be streamed live from the Watershed Cinema from 2.20pm, hosted by Robin Ince. It will the likes of Rob Brydon, Tim Vine, and Harry Hill introducing their favourite Goodies clips.
Eaton-Jones said: 'For Graeme, Bill, and Christine to approve of the idea of this being my way of a tribute to Tim was on the way hand, humbling, on the other hand, exciting, and on the third hand (yes, I've got three hands) nerve-racking.
'For fans, it gives them new, original adventures of the Super Chaps Three (which they initially were going to be called before The Goodies!), in the same style as the classic television series.'
He also thanked Gareth Gwynn and John-Luke Roberts, who wrote the audio episode and contributed ideas for the proposed follow-up series, for which 12 storylines were created. He added that if Avengers Dissemble does well enough, the other adventures could be made into short stories as well.
The book can be ordered here, priced £5.99, while tickets to watch Goodies Forever, either live or on catch-up over the next month, are £5 and available here.
Published: 28 Jan 2022
Recent News
What do you think?