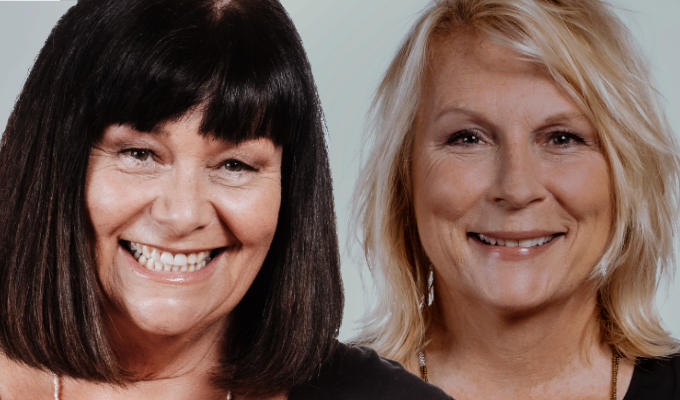 Together again! French and Saunders record a new podcast episode
Dawn French and Jennifer Saunders are to reunite for a new Christmas episode of their podcast Titting About.
Last month, French said the pair would never work as a comedy double-act again – but added she'd definitely keep working with her long-term partner.
Now it has been announced that Titting About will be back after a 14-month absence. The festive new episode will be released on December 16 for subscribers to Audible.
The platform says: 'Listen in as Dawn and Jennifer give their handy hints on how to suck the joy out of Christmas (pro tip: walk around the living room with a black bin bag insisting you collect people's wrapping paper); give unconventional advice on how to host a perfect Christmas (like telling everyone you are having a bath and hide), as well as answer the age-old question, "Can Dawn and Jennifer sing well-known Christmas carols without the words?".
'Plus, in a tense, dramatic, escalating finale to the episode, we find out if Dawn and Jennifer know each other well enough to buy one another a Secret Santa present for less than £10 that won't go straight into the bin. '
Last month French was asked about resuming her performing partnership with French by Youtuber Sarah O'Connell and replied: 'I'm done with that.
'Done with the double act part of it – not done with her. There's lots of things I'd love to do with her, but doing sketches on telly, I think we've had our moment with it.'
The original six episodes of Titting About! were released in October 2020 and are still available on Audible.
Published: 6 Dec 2021
What do you think?