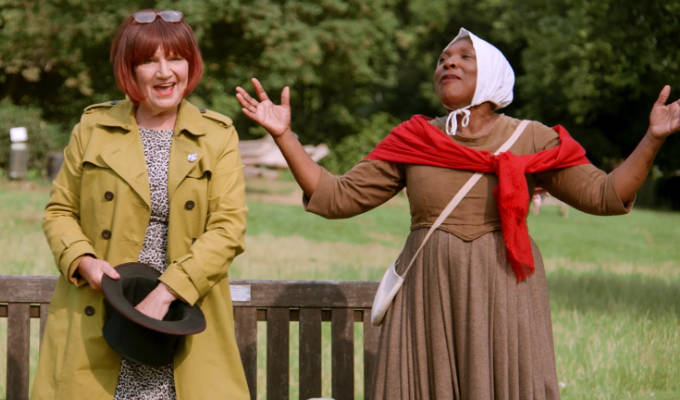 Barbara Nice play heading to Sky Arts
Barbara Nice has filmed a ten-minute play for Sky Arts.
The comedy character will feature in an episode of The Park Bench Plays written by her creator Janice Connolly.
She stars alongside Coronation Street actor Lorna Laidlaw in the piece, called Mrs Williams and Mrs Nice.
It is one of several such plays created under a lockdown scheme run by the Birmingham Rep theatre and its artistic director Sean Foley.
Each of the pieces was set on a single park bench, so they could be performed in pop-up locations throughout the city - at bus stations, community centres, parks, public squares, foyers and train stations.
Five of them have now been filmed and will be shown on Sky Arts soon under the banner The Park Bench Plays.
The others are:
Wider Still and Wider by David Edgar, with Alisha Bailey as Vicks and Oliver Cotton as Peter
Patties and Pakoras by Tanika Gupta with Mina Anwar as Sunita and Delroy Brown as Sebastian
Lovely, Loving, Loved by Bryony Lavery with Carolyn Lyster as Annie and Marsha Millar as Bernice
Lockdown Riddim by Robin French with Liam Jeavons as Terry and Elexi Walker as Janelle
Foley, who has directed West End shows such as Morecambe and Wise tribute The Play What I Wrote and Graham Linehan's version of Ealing comedy The Ladykillers, has said: 'This collection of two-hander plays take ordinary and everyday conversations and make them extraordinary and timeless – they all have a sense of fun and provide a living snapshot of our socially distanced, somewhat disturbed world.'
Frank Skinner also wrote a play for the initiative – prompting him to comment 'I've had some life-changing experiences on park benches in the West Midlands but I'm hoping this one will be a bit easier on the elbows' – but this has not been filmed for Sky,
The Park Bench Plays were directed by Foley, The Rep's associate director Madeleine Kludje and artistic associate Danny Alexander.
No broadcast date has yet been announced.
Published: 1 Dec 2021
What do you think?