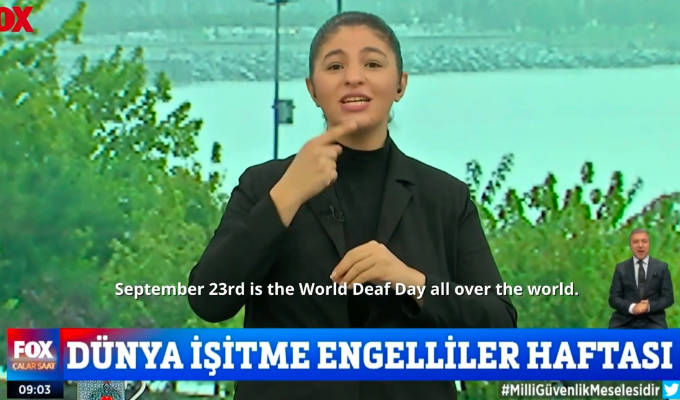 Honours for the global comedy projects making a difference
The third annual Finger Awards have been given out to comedy projects that aim to make a positive social change around the world.
The 'most effective' award went to global creative agency Analog Folk and its Brazilian campaign Intensivão da PPK, a 'digital school' that offered a five-week programme of 28 interactive lessons on Tik Tok to teach young people about vaginas in a 'fun and forthright way'. It garnered 44 million views and overturned on the of the word vagina' on Tik Tok.
The 'most creative' award went to Istanbul based Titrifikir for Big Change, which raised awareness of deaf issues by switching the positions of the news anchor and the sign language translator on screen on Fox News for a day.
Honorary mentions were also awarded to climate related projects. The first was Climate Night in the USA in which seven late-night shows focussed on the issue. Participating shows were The Tonight Show Starring Jimmy Fallon and Late Night With Seth Meyers on NBC, The Late Show With Stephen Colbert and The Late Late Show With James Corden on CBS, Full Frontal With Samantha Bee on TBS, Jimmy Kimmel Live on ABC and The Daily Show With Trevor Noah on Comedy Central.
The second, Cuddle A Koala, involved Australian comedian Dan Ilic, crowdfunding to buy billboard space in Glasgow to coincide with the Cop26 summit. After massively exceeding his target, he then bought 10 minutes of time on the billboard known as Godzilla in Times Square in New York to 'publicly shame' the Australian government's response to climate changem creating worldwide headlines.
Omri Marcus, creative director of The Finger Awards, said: 'We thought 2020 was challenging, but then 2021 was like - hold my beer.
'As the nominees for The Finger Awards showed, comedy can always really make a difference. It was almost impossible to hold these awards this year, still, we gathered a group who strongly believed in the importance of the mission - honouring talented people in the world who used their comic abilities for good and pushed others to do the same.
'They say that the equation for comedy is tragedy plus time. I hope that by this time next year, at the fourth Finger Awards ceremony, we will have stopped working through the variants and perhaps be able to laugh at this crazy year.'
The awards were given by the Comedy for Change group and announced at a ceremony at Kings Place in London's Kings Cross hosted by comedian Cally Beaton.
Published: 1 Dec 2021
What do you think?