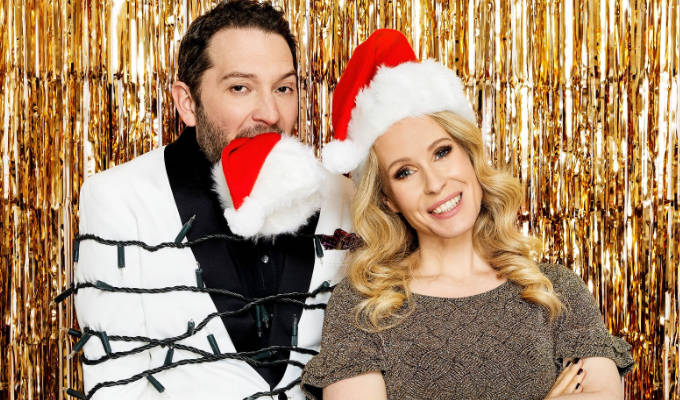 C4 orders Jon Richardson and Lucy Beaumont's Christmas Sleepover
Jon Richardson and Lucy Beaumont are hosting a 'Christmas Sleepover' for Channel 4.
The comics, who previously charted a fictional version of their married life on Dave's Meet The Richardson, are jumping channels for the one-off.
They will be joined by Roisin Conaty, Rob Beckett and Romesh Ranganathan, whose company Ranga Bee Productions is making the hour-long show.
Richardson said: 'The producers of this show are guaranteeing that it will end up in chaos, obviously I will be there to make sure they are proved wrong. Let me take this opportunity to tell you that this festive spectacular will start and end on time and contain an appropriate amount of fun given the year we've had and the certainty that next year will be worse.'
Beaumont added: 'I am so looking forward to being paid to hang out with old friends...and Jon.
'I shall be mostly slipping generous size cocktails and blocking out the resentment and negativity that Jon pretends he puts 'on ice' for the festive period.
'If the night is anything like the parties we throw at home, we peak at awkward conversation at about 8.30pm. Jon will go missing at 9pm and come down in some sort of weird nightwear and slippers and the guests will have gone half an hour later."
Benjamin Green who set up Ranga Bee with Ranganathan, added: 'It is such a pleasure to work with Jon and Lucy and help them turn an end of year review show into a piss up with their mates.'
Jon & Lucy's Christmas Sleepover production credits
Made by: Ranga Bee Productions
Executive producers: Benjamin Green and Romesh Ranganathan.
Producer: Aoife Bower
Director: Mus Mustafa
Commissioned by: Phil Harris, Channel 4's head of entertainment and events, and Genna Gibson, commissioning editor
Published: 29 Nov 2021
What do you think?