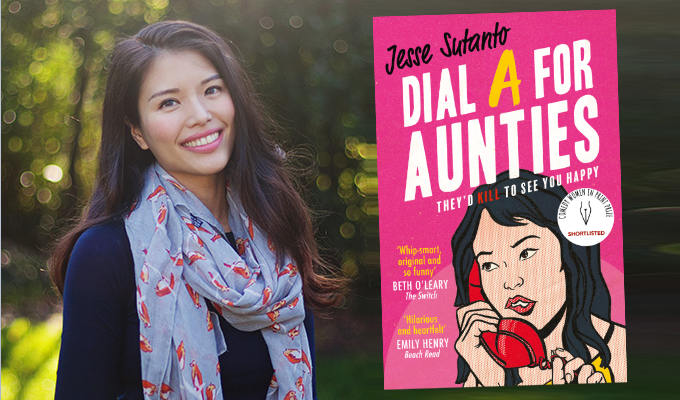 Comedy Women In Print 2021 winners announced
Jesse Sutanto has won the £3,000 Comedy Women In Print prize for the best funniest novel.
Her murder romcom, Dial A For Aunties was named winner at a ceremony at The Groucho private members club in London tonight.
It's about a Chinese-Indonesian wedding planners set in California, and the rights have already been snapped up by Netflix.
Second place – and £500 – went to Dolly Alderton for her fiction debut, Ghosts.
Joanne Harris, chair of judges, said: 'The panel had a wonderful time reading and re-reading the books. There was so much variety, originality, insight and humour in this shortlist that it wasn't easy selecting just two.
'However, we all agreed that Dial A For Aunties should be the winner: it's a deliciously frantic comedy caper, filled with absurd situations, hilarious dialogue, wonderful family dynamics and crackling with comic energy.
'The runner-up, Ghosts is a marvellously accomplished, tender, witty and human story that should speak to women everywhere."
The shortlist also included writer and actor Diksha Basu; TV presenter Mel Giedroyc; journalist a Jane Ions; and broadcaster Lynne Truss.
The Unpublished Comic Novel prize was won by job centre worker and single mum, Rebecca Rogers for The Purgatory Poisoning , which judges thought was inspired by a childhood diet of Blackadder and Monty Python. Rogers won a publishing contract and £5,000 advance from HarperFiction.
Sarah Shaffi, chair of judges for this award said: 'Rebecca's world building is remarkable, and her characters and plot propel the book to unexpected places. The Purgatory Poisoning is a delight – and a laugh – to read from start to finish."
Runner-ups Hannah Dolby (The Lady Detective) and Katherine Sumner-Ailes (The NCT Murders) won places on writing courses run by Falmouth University and the University of Hertfordshire respectively.
Comedian and podcaster Deborah Frances-White was named Game-Changer for her role in transforming the perception of witty women in comedy and beyond; Meera Syal was given special acknowledgement for her contribution to wit on the page, with AJ Morris winning £3,000 for the Comedy Cringe Flash Competition.
The competition was judged by members of both organisations alongside Ab Fab actress and writer Llewella Gideon.
Comedy Women In Print was set up by comedian Helen Lederer in 2019. She said: 'I am as in awe of the judges as I am of the authors. I don't know how they did it, but the judges managed the balance between personal comedic instinct and an unashamed, shared passion to celebrate witty writing.
'To choose between any of these wonderfully clever, uplifting novels is virtually impossible, but CWIP is genuinely thrilled to share these titles. For the cost of a book, a reader can be instantly connected, lifted, and feel less isolated. To recommend a witty book to anyone is a gift. Enjoy.'
Published: 8 Nov 2021