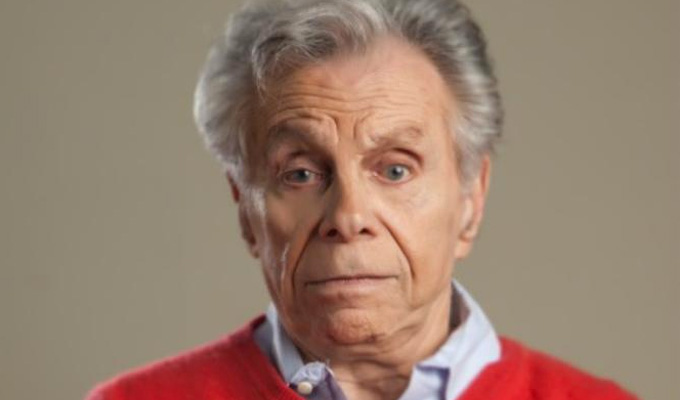 Mort Sahl dies at 94
Pioneering political comedian Mort Sahl has died at the age of 94.
The stand-up was at the vanguard of comics who revolutionised American stand-up in the 1950s and early1960s with material that reflected the counter-cultural revolution rather than generic gags about wives and mothers-in-law.
At a time when every comic would wear a tuxedo he adopted his trademark look of slacks and V-neck sweater with a newspaper folded under his arm. He argued: 'You mustn't look like any member of society you're criticizing.'
The Montreal-born comedian inspired the likes of inspired Lenny Bruce, Jonathan Winters, George Carlin, and Woody Allen, who credited Sahl with 'opening up vistas for people like me'.
His 1955 performance Mort Sahl At Sunset s considered the first stand-up album. He was the first performer to appear on the cover of Time magazine and was the first non-musician to win a Grammy.
At his peak, Sahl was earning up to $1million a year. from nightclub and TV appearances, including guest-hosting The Tonight Show in Johnny Carson's absence several times.
But after After President Kennedy's 1963 assassination his obsession with the alleged cover-up alienated audiences and his popularity waned.
However, he made a steady comeback through the 1970s, thanks in part to his stance against the war in Vietnam, and he continued to perform well into this century.
Though generally adopted by the liberals, Sahl was bipartisan, arguing: 'Liberals are people who do the right things for the wrong reasons so they can feel good for 10 minutes.'
He died today at his home in Mill Valley, California, a friend told The New York Times.
Among those paying tribute tonight were Simpsons actor Harry Shearer, who posted: 'He just invented modern American political satire, is all. Was still doing great stand ups on Periscope until very recently. And while he was best known for stinging wit, he was always an expert joke writer.'
Fellow comedian Albert Brooks wrote: 'Most young people have no idea who he was but he was one the few comedians who yanked comedy out of vaudeville type humor into the modern age. One of the very first to just talk to the audience. We'll miss you Mort.'
And Satiristas!, the Twitter account run by comic Paul Provenza and producer Dan Dion, tweeted: 'There simply are not enough words to describe what he has done for and has meant to the art of comedy. A figure of truly towering import has left us. May all who follow him in the art form carry his torch high and further.'
Married and divorced four times, he has no surviving immediate family members. A son, Mort Jr, died in 1996.
Here he is at work:
» Andre Vincent's tribute to Mort Sahl
Published: 27 Oct 2021
What do you think?