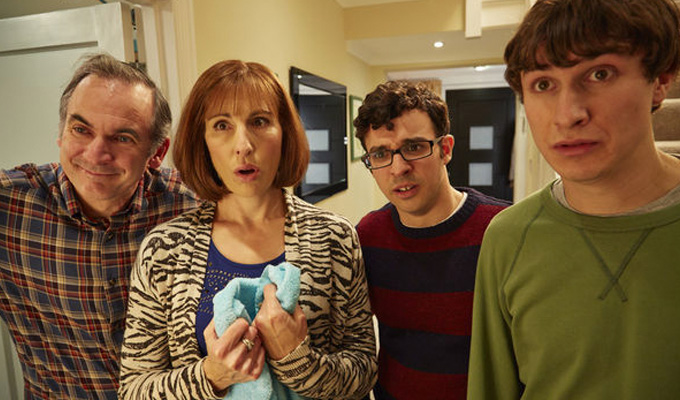 US remake of Friday Night Dinner gets the green light
The US remake of Friday Night Dinner has been given the green light.
And plans are also afoot to reshoot an American version Mum with Roseanne and Big Bang Theory star Laurie Metcalfe in the title role originally played by Lesley Manville.
A series of ten episodes of the Jewish family comedy, now retitled Dinner With The Parents, has been ordered by an as-yet unnamed network.
Former David Letterman writer Jon Beckerman will be penning the new scripts, based on Robert Popper's originals. And although it will be set in America, the seriees will be shot in the UK because it's cheaper.
The news was revealed in an interview with Kenton Allen, chief executive of programme-makers Big Talk gave to Hollywood news outlet Variety, principally to plug the launch of Stephen Merchant comedy-drama The Outlaws on BBC One tonight.
Last year, Popper revealed that at least five scripts for a US version of Friday Night had been written, including a 2011 version that got as far as being shot for NBC with Mom's Allison Janney and Monk's Tony Shalhoub in the parental roles originally played by Tamsin Greig and the late Paul Ritter.
'Every year, they sort of attempt it, and then it doesn't happen, and someone else attempts it,' he told Radio Times.
'A guy who wrote a recent version, which we're waiting to hear on. He wrote a really good take on it. He said that he and his sister used to fight like me and my brother, which I thought was very funny. So yeah, who knows?'
As for Mum, Variety reports that actor and writer Tracy Letts, who won the Pulitzer Prize for his stage play August: Osage County, will be adapting Stefan Golaszewski's story about a recently widowed, suburban older woman for the American market.
The US currently has a renewed appetite for British comedies, with CBS last week announcing a full series order for its version of Ghosts, while Welcome To Flatch – a remake of This Country – is coming soon to the Fox network.
Meanwhile, production is to start soon on Popper's new Channel 4 show, I Hate You, about the friendship between two young women, to be played by Tanya Reynolds and Melissa Saint.
Published: 25 Oct 2021
What do you think?