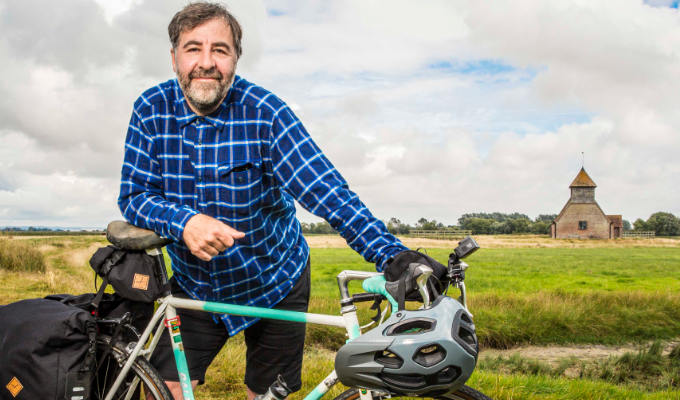 David O'Doherty's two-wheeled talk show
David O'Doherty is to go on a series of bicycle rides with fellow celebrities in a new Channel 4 series.
Grayson Perry, Richard Ayoade, Mel Giedroyc and Joe Wilkinson will all join the comedian and keen cyclist in The Ride as they tour some of the most picturesque parts of the UK.
O'Doherty – who also came up with the idea for the series – said: 'I think we've all seen enough of very fit cyclists racing up mountains and whooshing round tracks on our televisions.
'Now it's time for quite out-of-shape people getting lost as they pedal towards a beautiful landmark that's supposed to be just over there.'
The comic and his guests will visit Wales, Northumberland, Dungeness in Kent and the Suffolk coast, sharing laughs and conversation over each of the four hour-long episode.
Jonny Rothery, commissioning editor for Channel 4, said: 'Charming, revealing and full of picturesque locations, The Ride puts a new spin on celebrity interviews as we see the wonderfully funny David O'Doherty take to the road with these four brilliant characters.'
And Peter Holmes, executive producer for Zeppotron, added: 'We are so pleased to be able to help David share his passion for cycling as he freewheels around the most beautiful parts of Britain exploring the minds and calves of his fascinating guests.'
The Ride is still a working title for the show and may yet change.
The Ride production credits
Created by: David O'Doherty
Made by: Zeppotron and Motion Content Group
Produced by: James Fidler
Directed by: Leo McCrea
Executive producers: David O'Doherty, Ruth Phillips, Peter Holmes and Martin Oxley
Commissioned by: Jonny Rothery, Channel 4 commissioning editor, for Entertainment and Sarah Lazenby, formerly head of features and formats.
Published: 22 Oct 2021
What do you think?