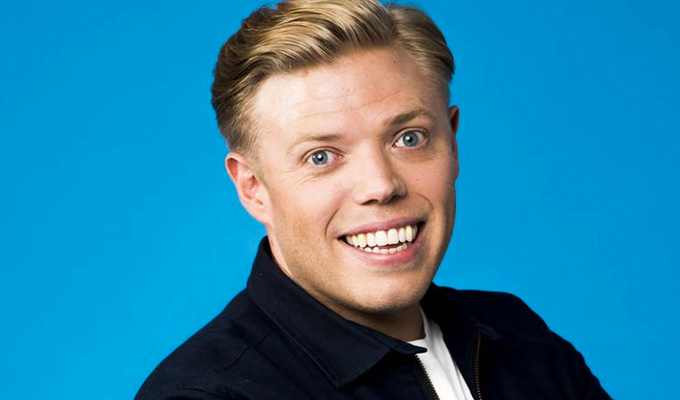 Rob Beckett reveals mental health struggles
Rob Beckett has opened up about the mental struggles behind his 'cheeky chappy' comedy persona.
The comedian reveals that even at the peak of his success he felt suicidal, believing: 'It would be better if I was dead.'
He attributes his anxiety to insecurities over his career – but says that he has conquered it through therapy.
The 35-year-old reveals that he hit a low in January last year, having just been flown to Cape Town first class to shoot a TV show (believed to be Rob & Romesh Vs for Sky).
In his forthcoming memoirs, Beckett writes: 'The show was watching cricket, drinking beer and going on safari with one of my best mates AND ­getting paid This filming was squeezed in ­during a nationwide sell-out tour.
'Happily married to the love of my life, with two kids in a family home newly renovated, I had surpassed my wildest dreams.
'But I was the unhappiest I have ever been. I woke up on January 5 in a five-star hotel room thinking it would be better and easier for ­everyone if I was dead.
'I put on a smile and finished filming. I got back to the UK and told my wife and my friend/manager how I felt. Then I went straight to a ­therapist, who I saw weekly for six months.'
He added: 'I still check in with the therapist when I feel the ­darkness creep in.
'I am telling you this as I always promote the message that people should talk about mental health, but I rarely do.
'So here I am, talking. I wanted to die when I had everything I ever wanted. So never judge yourself for feeling low. Tell someone and they will help you feel better.'
Surprisingly, the pandemic also eased his depression, as it forced him to take things easier with his career .
He said: 'I am now ­motivated by excitement and possibilities, not the fear of losing it all. I no longer set targets based on what other people see as success. Who cares if you've sold out the Hammersmith Apollo and are flying first class if you're crying in your bed?
'Each day can be a success if you go to bed after enjoying your day and you look ­forward to the next one.'
Beckett's memoirs, A Class Act, is published by HarperCollins on Thursday, priced £20, and an extract from the memoirs were published in The Sun today.
Published: 11 Oct 2021
What do you think?