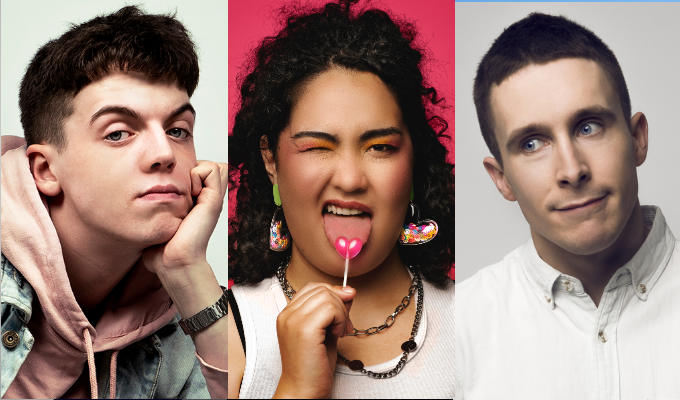 Smart cookie comics sign up for biscuit animation
Comedians Larry Dean, Erika Ehler, and Ed Night have joined the writing team for a new adult animation series about broken biscuits.
Butthole Biscuits is about a group of rejected treats left at the bottom of the tin who decide to break out and go hunting for kicks rather going stale by sitting around doing nothing. The series is an allegory which producers say 'takes a critical look at society'.
It is being produced by Stirling-based Wild Child Animation and Finnish company Ferly with the hope of finding a broadcaster or streaming service. Ferly's chief executive Laura Nevanlinna has said the animation aims 'to tell great, funny stories with a social commentary slant'.
The writing team is headed by Paul Alexander, who has written on My Hero, Red Dwarf and Horrid Henry.
Ehler, the 2019 Chortle Student Comedy Award-winner, has been a writer for Charlie Brooker's Death to 2020, Never Mind the Buzzcocks and Have I Got News for You
Larry Dean has been nominated for both best newcomer and best comedy show at the Edinburgh Comedy Awards, while Night was also nominated for best newcomer in 2017.
Ferly co-founder Joonas Rissanen said: 'These comedians and writers have a whole world of biscuity adventure to explore. With a concept like this you can't play it safe, that's why we have picked a writing team from the UK comedy circuit which is daring enough to take it where it needs to go.
'Having Paul Alexander as the chief writer is like having the very best artisan biscuit, he's multi-layered, refined and makes everyone feel special. We know he will use all his experience to expertly steer this fantastic bunch of comedians.'
And Sueann Rochester, managing director of Wild Child Animation, added: 'For Butthole Biscuits we've mixed together a brilliant team of veteran writing talent with some of the hottest new comedians on the UK circuit, with great results. Just as we hoped, they're having loads of fun bouncing off each other creating some hilarious content.'
Published: 22 Sep 2021
What do you think?