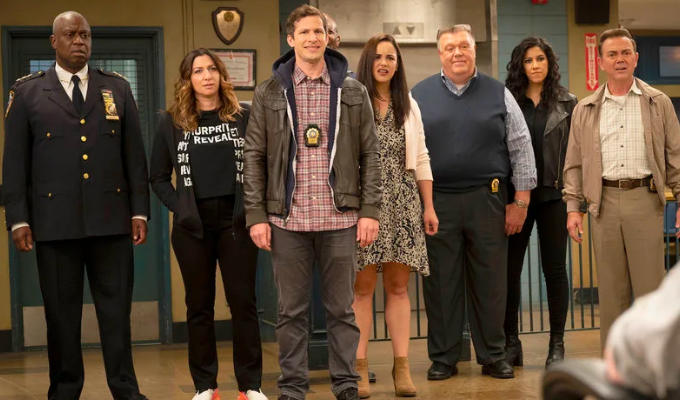 Farewell to Brooklyn Nine-Nine
American police comedy Brooklyn Nine-Nine came to an end after eight seasons last night.
The final episode, broadcast on the NBC network, brought back Chelsea Peretti, who left the role of Gina Linetti in series six.
Many previous guest stars also returned including Fred Armisen, Jason Mantzoukas and Kyle Bornheimer – while series co-creator Dan Goor made an appearance as a janitor.
At the end of the show, Andy Samberg's character Jake Peralta announced that he was leaving the force to spend more time with his child.
In the pervious episode, his character's partner Amy Santiago (Melissa Fumero) was promoted to police chief – – which would involve leaving the 99th precinct.
Just before the finale aired, Fumero tweeted: 'This show has been one of the greatest joys of my life. I am so damn proud of this finale. I won't be live tweeting tonight. I want you all to just watch it and soak up every second. I hope you love it as much we loved making it. Thanks for everything Nine Niners.'
And Samberg released a short video on the official Brooklyn Nine-Nine Instagram account saing: 'Hey Nine Niners, just wanted to say thank you so much for the love and support you've shown us. It made the last eight years pretty Toit. (It's from the show)'.
The final episode aired almost nine years to the day after the first, which went out on the Fox network on September 17, 2013.
Fox cancelled the series after five seasons in May 2018, before being revived by NBC.
Goor had called ending the series 'a difficult decision, but ultimately, we felt it was the best way to honour the characters, the story, and our viewers'.
However, the hour-long finale, entitled The Last Day, didn't get the pride of place in the schedules it might have deserved in New York, where the comedy is set. The local station bumped it to a 7pm slot to make way for a New York Giants football game.
The final plot revolved around the traditional Halloween Heist escapades of the precinct – and also saw Terry (Terry Crews) promoted to captain by Raymond Holt (Andre Braugher), who is also leaving the station for a promotion.
E4 is currently airing season 6, while season seven is available to buy on demand from Amazon.
Published: 17 Sep 2021
What do you think?