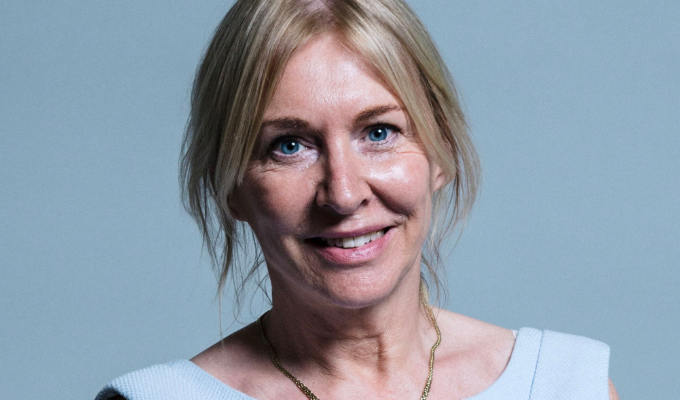 What Nadine Dorries thinks it's not OK to joke about
New Culture Secretary Nadine Dorries believes 'Left-wing snowflakes are killing comedy' – but she has also been quick to censure sitcoms she doesn't like.
In 2013, Ms Dorries took issue with the BBC comedy Way To Go, about three lads who are so desperate for cash they create an assisted suicide business.
The MP said the subject was not suitable for comedy and normalised a practice that would end in the murder of vulnerable people.
After Ms Dorries was promoted in yesterday's Cabinet reshuffle – with a portfolio that includes the BBC and helping the live comedy circuit get back on its feet – a 2017 tweet on the so-called culture war resurfaced.
She hit several right-week tropes in one message when she claimed: 'Left wing snowflakes are killing comedy, tearing down historic statues, removing books from universities, dumbing down panto, removing Christ from Christmas and suppressing free speech. Sadly, it must be true, history does repeat itself. It will be music next.'
Ms Dorries is no stranger to TV comedies, having appeared on Have I Got News For You, A League Of Their Own and Unspun with Matt Forde. However, she said Have I Got News For You was 'too vicious' for women… which some might consider a snowflaky attitude.
She said the only reason politicians were asked on to the programme was to be torn apart, saying women ask: 'Why would you put yourself up for that? Whereas, men don't seem to mind being shredded most of the time.
'It's all about banter - women don't banter in that way, or very rarely. You might get the odd woman who would, but most women don't banter in that way, don't have that degree of aggression.'
Ms Dorries was also accused of racism over a tweet she posted after her appearance on the show. She wrote: 'I have now left the HIGNFY after party. As I looked over my shoulder, Reginald D Hunter was talking to my daughter.#wheresmyshotgunman.'
However, she blasted any suggestion there was a racial aspect to her tweet as 'ridiculous', adding: 'These people need to get a life. It's a joke.'
In 2017, she deleted another tweet after being heavily criticised for using an offensive term for people with learning disabilities. However she claimed she didn't known the implications of the term 'window licking' when she used it in relation to Twitter trolls.
Mr Dorries' TV appearances have not always proved popular. In 2012, she took part in I'm A Celebrity ... Get Me Out Of Here, but was the first to be voted off. She was then suspended by the Conservative Party for not getting permission to appear.
Her voting record also includes opposing gay marriage, which she later described as her 'biggest regret'
Published: 16 Sep 2021
What do you think?