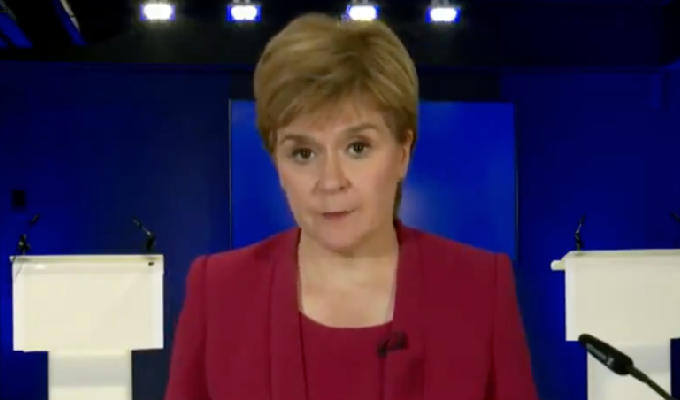 Scotland scraps social distancing
Nicola Sturgeon has given a boost to the Edinburgh Fringe and comedy venues across Scotland by confirming that most coronavirus restrictions will be scrapped on Monday.
The nation is currently in 'level zero' of the virus alert system – which requires one metre distancing indoors.
That rule will now be scrapped, allowing venues to operate at a more viable level, and return intimacy to stand-up rooms.
Although detailed guidance has yet to be released, the ban on hospitality premises opening past midnight is expected be scrapped, as well as mandatory table service.
However, the wearing of face masks indoors when not seated will remain compulsory.
The First Minister said: 'The move beyond level zero will entail the lifting of most of the remaining legally enforced restrictions, most notably on physical distancing and limits to the size of social gatherings,
'It also means that from August 9, no venues will be legally required to close.
'This change is significant and hard-earned. The sacrifices everyone has made over the past year-and-a-half can never be overstated.'
The Scottish Parliament was recalled from its summer recess to hear the coronavirus update this afternoon.
As of 30 July the rolling seven-day average of new infections in Scotland was at 1,153 – a third of what it was at the start of the month – despite the country moving down to level zero on July 19.
Despite today's announcement, Ms Sturgeon has urged 'caution' and says the fast-spreading Delta variant means nothing can be taken for granted.
She said: 'This virus remains a threat - and as we enter winter, it may well pose challenges for us again. It becomes even more important for us to remember the basic actions that can reduce risk.'
Under the present level zero rules, up to ten adults from four households can meet in a group in a pub or a restaurant but each household should stay 1m away from the next.
Capacity limits of 2,000 people indoors and 5,000 people outdoors will remain in place even after Monday.
» Chortle's listings of 220+ Edinburgh Fringe comedy shows
Published: 3 Aug 2021
What do you think?